Boys Basketball: Patriots' tough second-half defense gets them state win
Pequot Lakes vs Perham in the Class 2A State Consolaion Semifinals
We are part of The Trust Project.
ST. PAUL — The script flipped for Pequot Lakes Wednesday, March 23.
After scoring 10 points in the second half last night in a loss in the Class 2A State Quarterfinals, the Patriots held Perham to 14 second-half points in the Consolation Semifinals to get a 58-38 win at Concordia University in St. Paul.
The game was tied at 24 at half with Pequot jumping to a 20-6 run to start the second half.
Eli Laposky finished with a game-high 23 points on 8-of-13 shooting. He scored a layup early in the second half to make it 33-30 Patriots.
Laposky drilled his fifth 3-pointer to make it 41-30 and Brayden Spiczka scored a three-point play after drilling a second-half 3-pointer prior to Laposky's 3.
"I've been shooting pretty well I think," Lapsoky said, who scored 17 points against Annandale Tuesday. "Sam (Rysavy) inside helps spread the defense and creates more space for me to shoot and everyone to shoot. We were executing and hitting shots today."
It was the Patriots swarming defense which caused the Yellowjackets to commit 14 turnovers. Pequot used Laposky at the top of a 1-2-2 zone press and then would fall back into a 1-3-1 to try and speed up Perham's offense.
"We thought they had a lack of depth and they don't play fast," Pequot Lakes head coach Rich Spiczka said. "If you get in a half court with them and they grind you, you're in trouble. I thought they got a lot of bounces in the first half and we thought eventually the ball would go our way. I didn't know we could hold them to 14 points in the second half, but our kids dug in and played defense.
"I'm just proud of the way they defended. We thought the pressure could wear on them in the half court. We just wanted to make them think a little. They are so good in the man-to-man offense and we didn't want to let them grind and flow. We wanted to play a different way."
Rysavy was a presence inside and finished with 12 points and 11 rebounds for Pequot. Brayden Spiczka added 11 points off the bench for the Patriots.
The Patriots shot 52% from the field, including 39% from 3-point.
"We are not a symphony on offense," Rich Spiczka said. "It's not the most beautiful thing ever, but we space the floor, made some shots and got to the basket."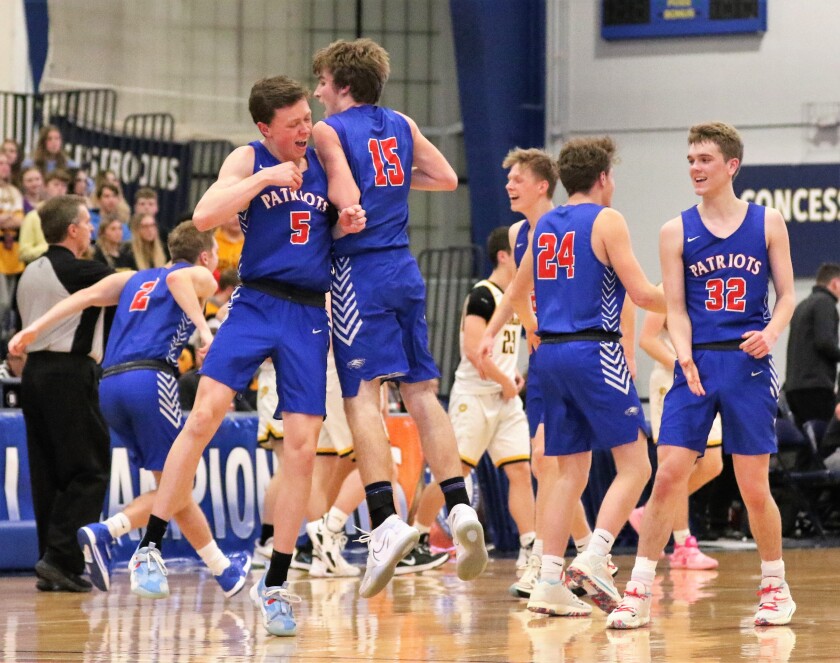 Perham shot 36% from the field and 24% from 3-point.
"They really like to slow the game down," Laposky said. "Us speeding them up helped us out because they panic in a way and it makes them make decisions they wouldn't."
Perham was led by Soren Anderson who finished with 16 points, 13 of which came in the first half. Micah Thompson added 10 points as the only other Yellowjacket in double figures.
In the first half, Perham led by as many as eight when it took a 22-14 lead after back-to-back 3-pointers.
Laposky drilled back-to-back 3-pointers for the Patriots as they ended the first half on a 10-2 run to tie it at the half.
The game was a bit of revenge for Pequot as it lost to Perham earlier in the season 52-35.
"I think we are a different team than we were then," Rich Spiczka said. "I think that game was a really good game from them and not our best and tonight was kind of the opposite."
The Patriots will finish their season in the Consolation Finals 2 p.m. Thursday, March 24, against Minnehaha Academy.
"(Minnehaha) is crazy athletic," Rich Spiczka said. "They have 6-foot-8, 6-7 and kids that can shoot. There's a reason they are here. I know our kids are excited to keep playing. I'm just hoping they can put together a solid game and make some shots. I don't think 58 (points) is going to do it tomorrow."
Soren Anderson 16, Micah Thompson 10, Jacob Daniels 5, Charles Melvin 3, Michael Schwantz 2, Noah Novotny 2. FG 13-36 (36%), FT 8-12 (67%). 3-point 4-17 (24%).
Cruz Megazzini 3, Gavin Kennen 2, Brayden Spiczka 11, Grant Loge 4, Leo Marc Bolz-Andolshek 1, Conner Quale 2, Eli Laposky 23, Sam Rysavy 12. FG 22-42 (52%), FT 7-11 (64%). 3-point 7-18 (39%).
Pequot Lakes 58, Perham 38
Key: Pequot Lakes' defense wears out Perham in Consolation Semifinals
Overall: PL 25-7, Per 18-12.
Next: Pequot Lakes vs Minnehaha Academy 2 p.m. Thursday, March 24.
CONRAD ENGSTROM may be reached at 218-855-5861 or conrad.engstrom@brainerddispatch.com. Follow on Twitter at www.twitter.com/the_rad34.