Park Rapids couple visits all 66 Minnesota state parks
It took eight years, largely delayed by COVID, but Diane and David Thoelke stopped at every state park.
PARK RAPIDS, Minn. — Diane and David Thoelke set off on a camping adventure in May 2014.
It would take them through all 66 of Minnesota's state parks.
"There's a beautiful oak Savannah, right in the heart of the state," Diane said of Nerstrand Big Woods State Park, the first stop on their eight-year journey. "It's real hilly there, and there's a waterfall. It's a great hiking place."
Her family would often picnic there, and relatives still live near Nerstrand, Minnesota.
A rare dwarf trout lily grows at this park. "We knew it bloomed in the spring. It's very rare in the world," Diane said.
David said they decided to visit all of the state parks after "we realized we'd seen a few of them in our day, over the years."
"When our kids were growing up, we camped at a few of them, all over the state," Diane added. "I think we thought 'Let's just do it. I bet we could see all of them.' And we did!"
A retired first grade teacher, Diane meticulously labeled photos from their trips and kept track of dates. David is a retired attorney.
Sometimes they stayed in a camper cabin. Sometimes they stayed in Diane's sister's motorhome. Sometimes they simply popped in to see a park's nature center, then moseyed on.
In September 2014, they went to Forestville/Mystery Cave State Park. With 13 miles of underground passages, it's the longest cave in the state. Above ground is historic Forestville, a restored 1800s village operated by the Minnesota Historical Society. According to the DNR, founded in 1853, the town prospered until the railroad bypassed it in 1868, after which the town declined steadily.
"It's like they closed up the town and walked away," Diane said. "Even the little general store is still full of stuff."
In the summer of 2015, Diane trekked along the North Shore, hitting seven state parks with her sister and a childhood friend.
Later that fall, they saw two nearby state parks: Maplewood and Glendalough.
"Maplewood is gorgeous," Diane said, particularly for its fall colors. The maple forest turns brilliant shades of orange, gold, and red. The Thoelkes hiked up to view the park's eight major lakes.
MORE PARKS: Take a deep dive in the Minnesota's Backyard parks series
On their way to Iowa, they pulled into Afton State Park.
When they lived in the Cities, they most often visited William O' Brien State Park. Located on the St. Croix River, it features great hiking trails and canoeing. They returned in November 2015.
Through the National Audubon Society, they continued south to John A. Latsch State Park to see beautiful tundra swans before they migrated.
"They were waiting for a big wind. All they do is put their wings out and it pushes them east in one day," Diane explained.
Frontenac was nearby, so they stopped there, too. "It was gorgeous looking down on the river," she recalled.
The Thoelkes love to spend time in nature, whether it's hiking, birdwatching, camping or canoeing.
"Every park is a bit different," Diane said. Some have historical or geographical uniqueness.
The view from Great River Bluff State Park, overlooking the St. Croix River, is amazing, for example. "Jaw-dropping scenery," Diane said. "We were there in June 2016."
Buffalo River is only a day's drive from Park Rapids.
A sandstone quarry is the focus of Banning State Park. Canoeists and kayakers shoot the turbulent rapids on the Kettle River.
After a trip to North Dakota, the Thoelkes ventured into Lake Bronson, Old Mill and Red River state parks in the northwestern corner of Minnesota.
For a day trip, they went to Big Bog, which was a state park at the time, but now it's a state recreation area.
"Then we did Zippel Bay and Franz Jevne in one day. We had a picnic lunch, went there and came back home," Diane said.
In June 2017, they visited Sibley, Monsoon Lake and Camden state parks.
Bear Head Lake State Park, near Ely, attracted the Thoelkes in July 2017.
At Scenic State Park, the Thoelkes said you're surrounded by stunning red and white pines.
A tote road winds through Savanna Portage State Park. The historic trail was traveled by fur traders, Dakota and Ojibwe Indians and explorers more than 200 years ago.
A 2018 reunion allowed them to stop at several parks in western Minnesota.
Father Hennepin, located on Mille Lacs, and McCarthy Beach, near Hibbing, are great state parks for children, with wonderful swimming beaches and bike trails. Whitewater, near Rochester, is also popular with families.
Grand Portage State Park, at the U.S.-Canadian border, is another must-see. "The Pigeon River is what separates our countries. How many people know that?" Diane wondered.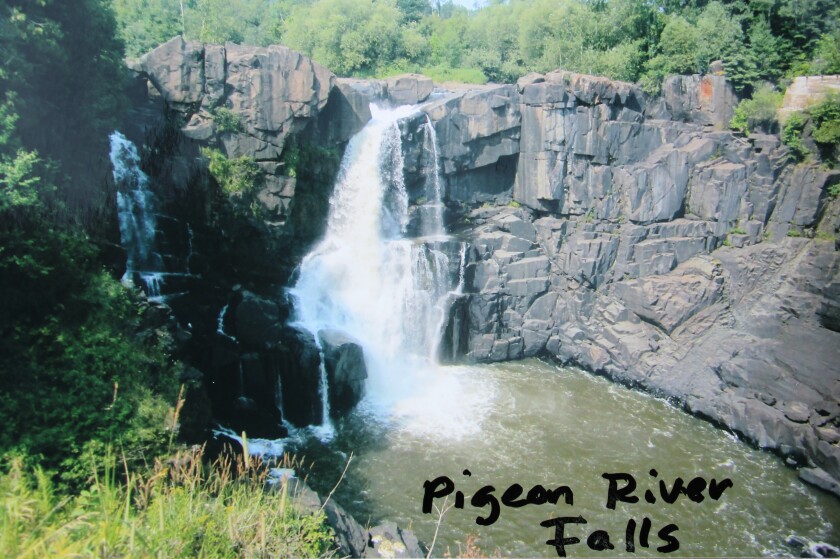 Franz Jevne State Park is also situated at the Canadian border.
COVID disrupted their schedule in 2020, so they only visited one state park.
"This fall, we got a little more serious," Diane said because they only had eight state parks left to tour.
In early Sept. 2022, they stayed at a hotel in Sioux Falls, S.D. to see Lake Shetek, Split Rock Creek and Blue Mounds state parks.
They reached their goal when they saw Lac qui Parle State Park on Sept. 23.
Both of them grew up in St. Paul. Thirty-two years ago, they purchased a cabin on Little Mantrap Lake. When they retired in 2015, they made Park Rapids their permanent home.
Touring all of the state parks has been a fun retirement project, Diane explained.
"It never became work," David added.
"We just live in a beautiful state. We need to appreciate what we have here. It's gorgeous," Diane continued.
David speculated the inspiration for the project may have begun with their marriage.
"On our honeymoon, we took a road trip and our first stop was Itasca State Park," he recalled.
"Fifty-three years ago," Diane added. "Never did we think we'd own a lake place right by it."
And their favorite park is the one closest to their home: Itasca.