Boys Hockey: Lightning top Prairie Centre in OT
BREEZY POINT — Colton Craig's overtime goal lifted Northern Lakes to a 6-5 Mid-State Conference win over Prairie Centre Thursday, Jan 6.
The Lightning tied the game at five with 1:19 left on a short-handed goal from Jamison St. Clair. St. Clair and Caiden Kjelstrom assisted on Craig's overtime goal.
The Lightning fell behind by two goals to start the game and got on the scoreboard at the 3:18 mark of the first period on a Quady Bernu goal.
Tyler Seeling and Zach Ehnstrom scored second-period goals but the Lightning trailed by two entering the third period. Seeling's goal at 11:32 of the third period made it a one-score game before.
Prairie Centre 2 3 0 0 - 5
Northern Lakes 1 2 2 1 - 6
First period: PC Zachary Bilz (Jesse Williams, Elijah Fletcher) ppg 5:09; PC Fletcher (Williams, Bilz) 4:51; NL Quady Bernu (Isaac Peterson, Caden Nelson) 3:18
Second period: PC Fletcher 16:06; NL Tyler Seeling (Taylor Berg, Christian Crutcher) 12:11; NL Zach Ehnstrom (Berg, Andrew Villarreal) ppg 4:08; PC Bilz (Fletcher Zachary Deters) :15; PC Fletcher (Williams) :01
Third period: NL Seeling 11:32; NL Jamison St. Clair (Crutcher, Colton Craig) shg 1:19
Overtime: NL Craig (St. Clair, Caiden Kjelstrom) 6:40
Shots on goal: NL 30, PC 24
Goalies: NL-Nigel DeSanto (19 saves); PC-Jesse Williams (24 saves)
Conference: NL 3-1. Overall: NL 7-4.
Lightning 8, Dragons 4
BREEZY POINT — Seeling scored five times to lead the Northern Lakes Lightning to an 8-4 non-conference victory over the Pine City Dragons Tuesday, Jan. 4.
Ehnstrom, Quady Bernu and Logan Verville also tallied goals for Northern Lakes.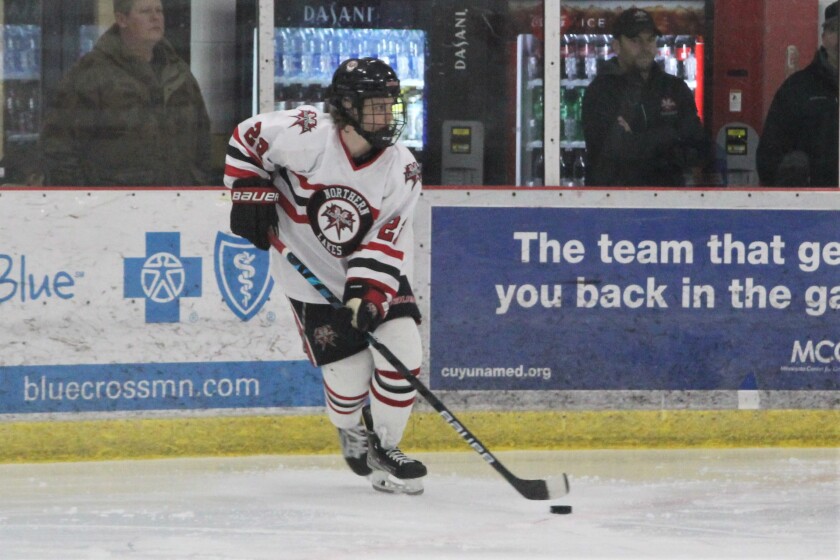 Desanto recorded 27 saves for the Lightning and Christian Crutcher finished with three assists.
Pine City 2 1 1 — 4
Northern Lakes 3 1 4 — 8
First period: PC-Aidan Welch (Ryder Youngbauer) 15:46; NL-Tyler Seeling (Christian Crutcher, Colten Craig) 9:44, PC-Aidan Welch (Ryder Youngbauer, Hunter Haug) 4:07, NL-Zach Ehnstrom (Isaac Peterson, Tyler Berg) 2:51, NL-Seeling (Crutcher, Jamison St. Clair) 2:39
Second period: NL-Quady Bernu 10:30, PC-Seth Linnell 5:00
Third period: NL-Logan Verville (St. Clair, Crutcher) 15:35, NL-Seeling (Craig) 12:05, PC-Mason Mikyska (Jimmy Lindholm, Mason Rydberg) 10:08, NL-Seeling 6:59, NL-Seeling (Bernu) 1:40
Shots on goal: NL 29, PC 33
Goalies: NL-Nigel Desanto (27 saves); PC-Mason Olson (21 saves)