A married couple took their boat onto Lake Superior for an anniversary cruise. Only one of them came back.
Larry Race maintains his innocence even after being convicted in 1983 of his wife's murder. He has since been released after serving his sentence.
We are part of The Trust Project.
On May 11, 1982, Larry and Debbie Race took their boat out into the Lake Superior chill after eating a celebratory dinner.
Only Larry came back.
Debbie's body, clad in a lifejacket, washed up on shore along Lester Park neighborhood in Duluth, about 18 hours later. A jury convicted Larry Race of her murder in November 1983. He has maintained his innocence throughout.
Did Race engineer his wife's death to escape their marriage and collect insurance money, as prosecutors contended? Or did he fail to save her when their boat struck trouble?
Here's what happened, according to court records and Duluth News Tribune coverage:
The Races, both in their early 30s and from Hoyt Lakes, Minnesota, ate dinner at the now-former Lakeview Castle restaurant around 6 p.m. on May 11, 1982, to celebrate their 14th wedding anniversary. A food server there later told St. Louis County authorities that the couple were acting "very serious" and that they ate dinner quickly and left.
After that, the Races drove to the Knife River Marina, which is about 20 miles north of Duluth, for an anniversary cruise on the Jenny Lee, a 21-foot cabin cruiser. The boat was named after the Races' daughters.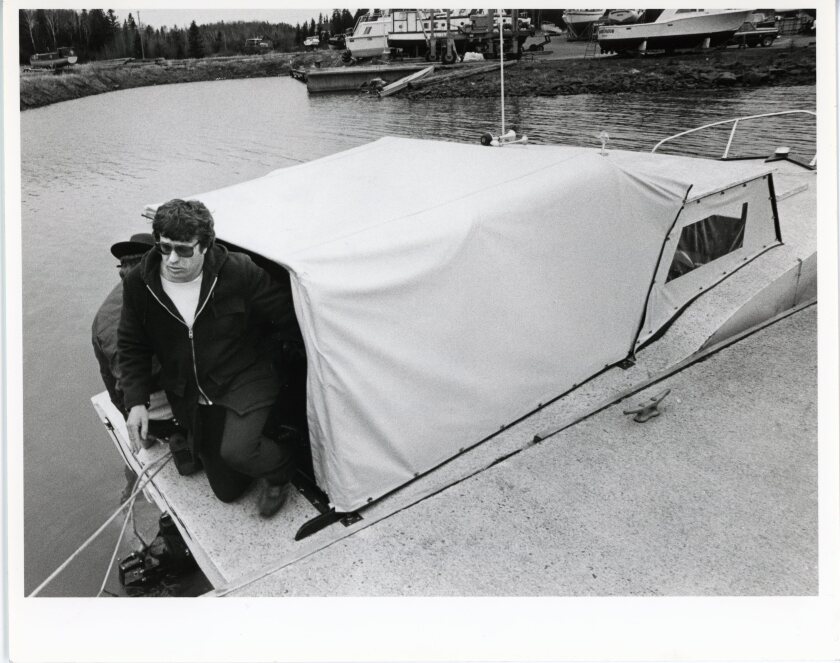 The boat, Larry Race told investigators, began to take on water, and its engine cut out an hour or two into their cruise. Debbie Race, Larry claimed, got into one of two life rafts on the Jenny Lee, but, worried it wouldn't handle both of them, refused to let her husband in as well. The other raft, Larry claimed, was torn and wouldn't inflate.
Larry, an experienced scuba diver, put on a drysuit, he said, and tried to push the usable raft to shore with Debbie aboard it. She reportedly couldn't swim and, Larry Race said, panicked when the Jenny Lee began to falter.
Race lost track of his wife and the raft in the churning dark, and swam back to the Jenny Lee, which he was ultimately able to get started again. Race set off emergency flares that were spotted by crew members on a passing ship, the Carrianna Peony, around 2 a.m.
Race piloted the boat back to a spot near the restaurant, swam ashore, and called the St. Louis County Sheriff's Department in the wee hours of May 12.
Debbie Race's body was found that afternoon after extensive water and air searches. The county's medical examiner ruled she had died from hypothermia in the near-freezing water, not drowning.
The raft she was purportedly afloat upon was never found. Coast Guard officials at the time said that type of raft rarely sinks. Instead, it would usually be kept afloat by small pockets of air trapped inside.
Another raft with several tears and water inside each of its air compartments was found onboard the Jenny Lee.
Larry Race was indicted in February of 1983 on a charge of first-degree murder. He pleaded not guilty.
The evidence against Larry Race was circumstantial. He maintained his innocence, and there were no eyewitnesses to the alleged crime.
Prosecutors argued that Race lured his wife onto the raft and then, while wearing scuba equipment, swam underneath it and punctured it with a knife, leaving her to die in the near-freezing water. Their contention was that Race was looking for a way out of his marriage and that his wife's death put him in line for substantial life insurance payments.
Testimony from loan officers and insurance company representatives indicated that Larry Race stood to gain about $110,000 worth of insurance benefits from his wife's death. But, when questioned by William Mahlum, Race's lead defense attorney, they conceded that Larry Race's life was insured for at least that amount as well, and that Debbie Race had willingly participated in the purchase of those policies. Larry Race made about $25,000 per year as a clerk at the Erie Mining Company, an employee there testified.
Prosecutors also tried to paint Larry Race as unhappy in his marriage and looking for a way out of it – a sometimes-flashy ladies' man who felt Debbie Race was overweight and a poor housekeeper. Multiple women testified that they had romantic affairs with Larry Race.
But friends testified that Race was a loving and kind husband and father, and members of Debbie Race's family stayed by his side during the trial.
Debbie Race's parents, Frank and Sylvia Selvey, were asked to leave the courtroom in November 1983 because, at least in Judge Jack Litman's estimation, they were too friendly with their daughter's alleged killer and might sway jurors. During recesses, Race would sit and chat with the Selveys and, occasionally, embrace Sylvia Selvey.
"We believe in Larry," the couple told the News Tribune during the trial.
The condition of the Jenny Lee and Debbie Race's comfort around water were also factors in the month-long trial.
Shortly after Debbie Race's death, sheriff's deputies and the U.S. Coast Guard inspected the Jenny Lee and found it to be seaworthy. The Coast Guard's Marine Safety Office found water was leaking into the boat at about 48 gallons per hour, but the boat's bilge pump could remove water at a rate of about 300 gallons per hour.
The lead prosecutor was John DeSanto, who was, at the time, an assistant St. Louis County attorney who had prosecuted the infamous Congdon murders at the Glensheen Mansion a few years earlier and later served as a judge from 2009-2015. Glensheen, coincidentally, sits only a few blocks from the spot where a boy found Debbie Race's body.
The boat's general seaworthiness and the bilge pump's flow rate are two spots at which Race's story started to fray, DeSanto told the News Tribune on Saturday, Jan. 14.
"It's not really taking on water," DeSanto recalled. "They're not really in dire straits where she has to get into a raft."
The boat, though, had sunk in 1981, and William Mahlum, one of Race's defense attorneys, noted as much at the 1983 trial.
"It's not a yacht," Mahlum said at a hearing then. "It's a much-used, many-times-repaired boat. Not at all the impression some people might have in their minds."
William Rupright testified that Debbie Race was comfortable around boats and water and knew how to operate a bilge pump. Rupright, his wife, and the Races were friends, and had gone on boating trips together. Debbie Race, Rupright said, "never, ever showed or exhibited a fear of water."
Other witnesses, though, testified that Debbie Race was indeed afraid. She became "terror stricken" when friends would playfully attempt to toss her into the water, the News Tribune reported witnesses claimed in court.
Most notable, though, was the existence – or lack thereof – of a second life raft aboard the Jenny Lee. Larry Race claimed that Debbie Race had boarded a seaworthy raft when the Jenny Lee began to falter, and that a second raft aboard the boat had holes in it.
An analyst at the Minnesota Bureau of Criminal Apprehension claimed in court that the raft found on the Jenny Lee was probably punctured with a dull knife from below while it was inflated.
Race maintained that the torn raft found on the Jenny Lee wasn't the one he put his wife into, and he didn't know how the cuts got there. His daughter Michelle, then 14, testified that she had seen both rafts – the one that was found with holes and the other one onto which Debbie Race supposedly alighted – at various times in their family's Hoyt Lakes garage. Neighborhood kids, she said, may have cut the raft while it was inflated there.
Larry Race's brother Thomas claimed in court that he sold the second life raft to Larry seven or eight years before the trial, and that Larry picked the raft up about six months before Debbie Race's death.
DeSanto accused Thomas Race of lying under oath to protect his brother and asked why Thomas hadn't volunteered that information until Sept. 28, 1983 – about six months after the incident itself.
"Nobody asked me," Thomas Race said.
DeSanto doesn't believe Larry Race had two rafts.
"My theory of the case," he said Saturday, "was that the raft that they ultimately find on the boat with the cuts all over it is the raft that she was in, and he donned his scuba gear and cut the raft out from under her."
Race, DeSanto believes, tethered himself to the raft so it wouldn't get lost in the lake.
Coast Guard witnesses testified that there was, in essence, no way they would have missed a life raft floating in the lake.
"It wouldn't have sunk and never been found," DeSanto said.
Race's attorneys also fought unsuccessfully to have the trial moved elsewhere, claiming that TV and newspaper coverage at the time had prejudiced the Duluth-area community. He said a coincidental guilty plea in the infamous Congdon Mansion murders would also hamper Larry Race's chances at a fair trial, and criticized Greg Sertich, the former St. Louis County sheriff, for leaking information about the investigation to the media during his own unsuccessful re-election campaign.
"If this was a crime, it is unknown in the annals," Mahlum said at the time. "I can't imagine a poorer way (to murder someone) than to put them in the water and wait."
Jurors found Race guilty on Nov. 17, 1983. The News Tribune reported that he lunged away from deputies who moved to handcuff him shortly after the verdict was read.
"I don't believe it," Race reportedly said. "How?"
Race received a life sentence. He unsuccessfully appealed his conviction several times.
One such appeal was prompted by a 1991 episode of the TV series "Unsolved Mysteries" about Debbie Race's death. Two Twin Cities women came forward shortly after the episode aired, claiming they found a raft near Duluth in 1983. An earlier and, perhaps, stronger appeal was denied after a similar raft sighting in 1987.
"He would always claim that this is the raft that the person saw," DeSanto said. "One of them was in a lake in Wisconsin that has no tributary from Lake Superior. It would have been impossible."
Race was released from state prison in Stillwater, Minnesota, in 2005.
He told the News Tribune on Friday, Jan. 12, that he wasn't interested in an interview for this article. Now in his 70s, he lives in the Twin Cities area and has remarried.
"All we want to do is finish our twilight years out with our family and just be happy," Race said. "When you put somebody falsely incarcerated in prison and then he gets out, he just wants to be thankful to be home with his family."
A family of five was shot to death by Neil M. Pladson in 1970. Pladson was imprisoned, then released to a halfway house in 1987. A year later, he was found strangled to death in his apartment.