E-PaperHighlights: March 11-17, 2021
Take a look at just some of what was on the Echo Journal's e-paper pages in the last week.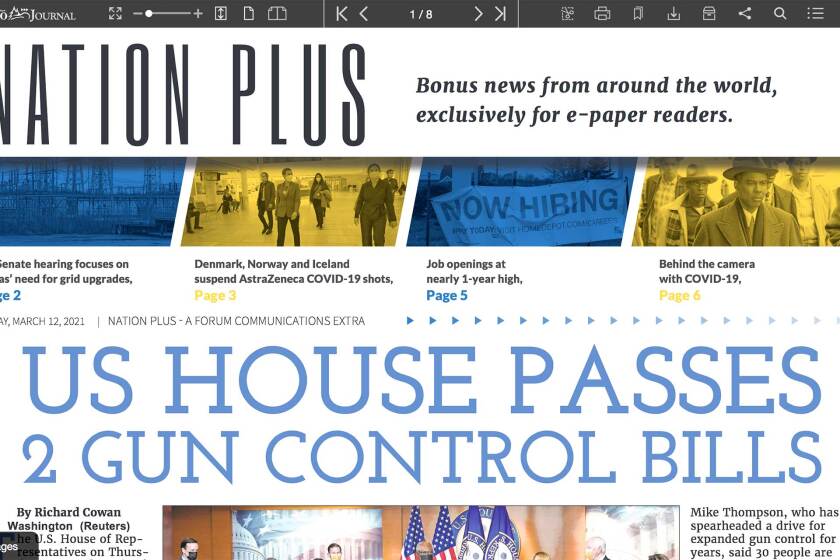 Check out your e-paper! Subscribers, here's just a tiny taste of what was published in our e-papers online every day in the past week. Visit pineandlakes.com/activate to connect your print and digital accounts. Each e-paper is seven to nine pages of world, national, state, sports, business and entertainment news:
Thursday, March 11: Texas ends pandemic masks, occupancy restrictions. Surge in mortgage rates threatens to slow U.S. housing rally. "Long Weekend:" How heartache inspired a movie filled with hope.

Friday, March 12: U.S. House passes two gun control bills. Poland to ban gays from adopting, even as single parents. Duke ends its season due to positive COVID-19 test.

Saturday, March 13: A look back at a year of COVID-19: What we knew, what we know and what we expect. States seek curbs on transgender girls in sports.

Sunday, March 14: Everybody will pay for the weather crisis in Texas. How teachers turned away from Dr. Seuss. Kamala Harris's husband breaks new ground as the first second husband.

Monday, March 15: Democrats push to make aid to the poor permanent. Fauci says vaccine hesitancy among GOP poses a big risk. Dangerous winter storm pummels western U.S. Trial data on new Alzheimer's drug shows promise. Saints quarterback Drew Brees retires from NFL.

Tuesday, March 16: Legislators want to rename highway after Prince. The return of March Madness is a welcome relief. Vatican says church cannot bless same-sex marriages. Oscar nominations and Grammy Awards winners announced.

Wednesday, March 17: Find this week's Echo Journal pages, along with extra pages of state, national, world, sports, business and entertainment news.