Pequot Lakes and Pine River-Backus Schools' MCA scores drop post-pandemic; Nisswa School scores improve
Schools across Minnesota saw students struggle on standardized tests after e-learning during the COVID-19 pandemic
Area schools' 2022 Minnesota Comprehensive Assessment, or MCA, scores were still significantly lower than their pre-pandemic levels with the exception of Nisswa Elementary School, according to data from the Minnesota Department of Education.
The percentage of students meeting state standards in math, reading and science in the Pequot Lakes and Pine River-Backus school districts dropped 24% from 2019 to 2022 compared to a statewide drop of 17%.
Students did not take any MCAs in 2020.
Nisswa Elementary School, after seeing a slight decline in the percentage of students meeting standards from 2019 to 2021, saw a 4% increase in its math and reading scores from 2019 to 2022.
Students in third through eighth grades take reading and math MCAs every spring. Students take one more reading MCA in 10th grade and one more math MCA in 11th grade. Science MCAs are given in fifth and eighth grades and once in high school.
The drop in scores reflects the challenge educators faced during and after the COVID-19 pandemic, including less effective e-learning, lack of technology access and poor attendance.
Pequot Lakes Middle School
Unlike the elementary and high schools, all four middle school grade levels take at least two MCAs, with fifth and eighth graders taking a third, making MCAs a more significant metric.
"We have a lot of data staring us in the face that we use," Pequot Lakes Middle School Principal Mike O'Neil said.
His primary concern is math scores that dropped below the state average.
We are challenging our staff and our kids to get back to what Pequot's accustomed to.
Mike O'Neil
"That is concerning to our team, and we have built a response," O'Neil said. "Reading scores, we are comfortable with. The reading performance is something we have not identified as our red flag."
Math proficiency dropped from 60.6% in 2019 to 29.9% in 2021 before recovering slightly in 2022, rising to 34.9%. The initial drop was significantly more than the statewide average, which went from 55% in 2019 to 44.2% in 2021.
O'Neil said the school introduced target math intervention for all four grades. Fifth and sixth graders who may need additional help with specific skills meet in small groups with the teacher during class time while the rest of the students work on independent tasks.
There is also an option for students to access more math resources during their recess time.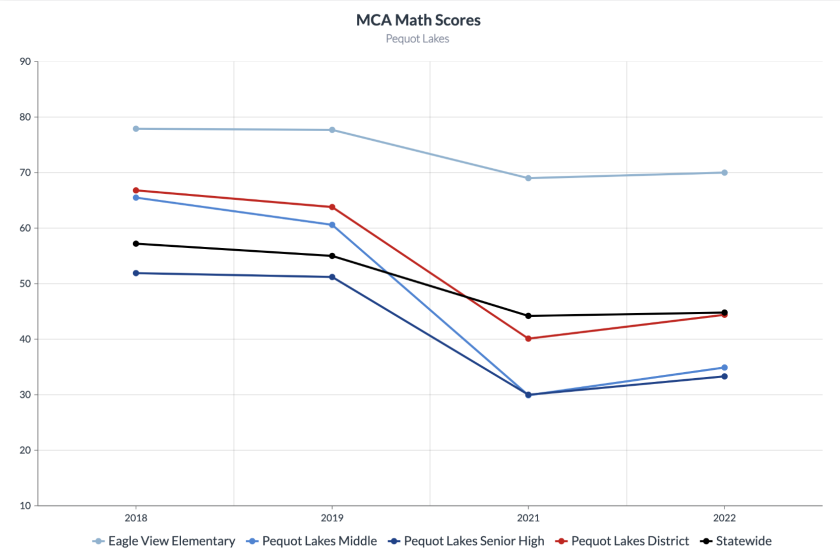 Similarly, the seventh and eighth grade students can choose to get help with math during their outdoor break, but students who are identified by the teacher as someone who needs additional math support have to attend a math lab during that time.
"We're too early to identify if it's truly having a bang for the buck impact," O'Neil said. "And we won't really know until the analytics are done (August 2023)."
Despite the additional challenge of recovering lost knowledge from the pandemic, O'Neil and the middle school staff have set a goal of 12% above the state average for both MCA math and reading.
"We are challenging our staff and our kids to get back to what Pequot's accustomed to," he said. "Set growth goals with growth intentions, right? And I'm 100% comfortable with not hitting 12%. Where I'm not comfortable is being below the state average."
O'Neil said Pequot Lakes being a smaller district means that individual student performance can affect the proficiency outcome by as much as .75%. In 2021, parents had the option to have their students opt out of MCA tests, meaning fewer students took the tests, and the ones who did had a larger impact on the scores.
"Do we put all our eggs in the basket of MCA scores? No," O'Neil said. "We educate the whole child, and we use a lot of metrics to evaluate how the child is doing and how we are doing as a school."
Pine River-Backus High School
The Pine River-Backus School District has faced another challenge as a result of the pandemic: poor attendance. In 2021, for example, only 19 students took the math MCA, likely resulting in the poor proficiency percentage.
Pine River-Backus High School Principal Chris Halvorson said students simply weren't in school to take the test.
"We have an attendance review board that we're paying very close attention to with Cass County," Halvorson. "We've got to get kids in front of us before they can learn."
The Pine River-Backus School District does not have a middle school, so its high school is seventh through 12th grades, meaning its MCA scores are a little different compared to other districts. It is also significantly smaller, with only 45-75 students taking a given test, meaning individual students have even more effect on proficiency measures than they do in Pequot Lakes.
PR-B hired a curriculum director to help with data analysis, a seventh-eighth grade interventionist and a ninth-12th grade interventionist. The school has made efforts to dig into past tense and figure exactly what types of questions students are struggling with.
Halvorson said the goal is 48% proficiency in math and 60% proficiency in reading.
"We've got a lot of work to do, but we feel like our kids can do it," Halvorson said. "I'm pretty confident we're going to make some strides. We set lofty goals to get back to where we were at, but I think we have a good plan."
Nisswa Elementary School has had MCA scores above the state average since 2018. Despite a three percentage point dip in scores from 2019 to 2021, the school has already raised its proficiency levels 4% higher than before the COVID-19 pandemic.
"The length that every staff member went to ensure that all students succeeded is the reason our data looks like it does," said Molly Raske, Nisswa School principal.
Throughout the pandemic, the Brainerd School District was instructing live, whether it be online at the beginning of the pandemic, in-person or both if a student was home sick.
"Our staff pushed through to make sure that every single kid got what they needed to learn that day," Raske said. "The things that they were doing every day — just amazing."
Raske also attributes the improved test scores to Nisswa School's social and emotional learning program. Teachers had access to a variety of options such as breathing techniques to help students self regulate or deal with outside stressors.
The length that every staff member went to ensure that all students succeeded is the reason our data looks like it does.
Molly Raske
"We made sure that we not only taught them all of our state standards but also met them where they were at social-emotionally," Raske said. "I think that really supported our learners. I can't say definitely that that contributed to what would be seen on a summative evaluation, but I do know that when our students came back in person they were better able to cope with going in and out of models easier."
Graphs showing each school's MCA proficiency levels from 2018-2022 are available in the online version of this story at pineandlakes.com.
Megan Buffington, Echo Journal reporter, may be reached at megan.buffington@pineandlakes.com. She is a 2021 Pequot Lakes High School graduate who attends the University of Nebraska-Lincoln.