Patriot Perspective: Reflecting on a North Shore experience
Patriot Perspective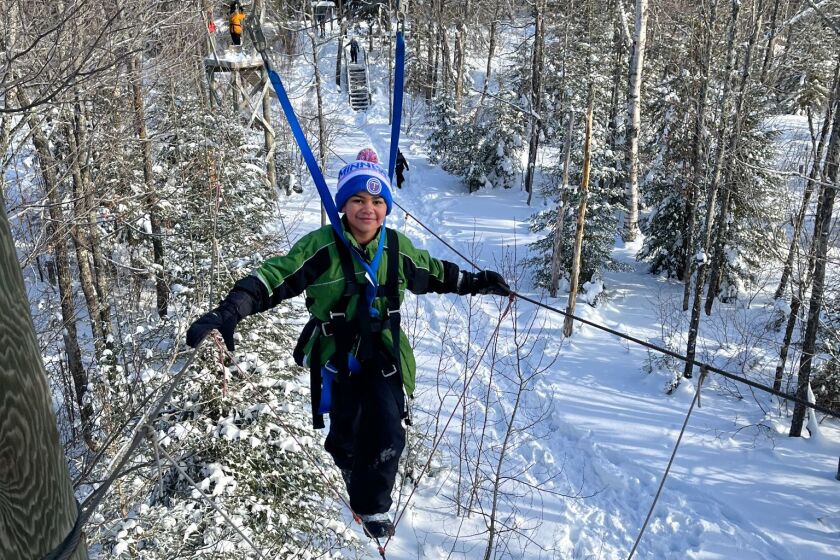 Who in their right mind would willingly spend three days and two nights with over 140 11- and 12-year olds? Better yet, throw in a four-hour bus ride, with over 50 inches of snow, unbroken trails, cold temps, unforgiving wind chill and a lodge full of preteens smelling like wet feet and campfire. Sounds like fun, right? Actually, it does!
Last January, Pequot Lakes Middle School took our sixth grade students to Wolf Ridge Environmental Learning Center in Finland, Minnesota. Nestled against the backdrop of majestic snow covered pines, rock outcrops, and the pristine shores of Lake Superior, our students were immersed in a three day field trip exploring our natural world. From Beaver Ecology to Winter Survival Skills, our middle schoolers dove into a deeper understanding of our natural resources. While at the camp, they were also exposed to the concept of sustainability and personal responsibility. From Kitchen Patrol (KP) to room-by-room energy consumption monitoring, our students took an active role in understanding the foundational concepts of "conservation".
Beyond experiential learning about our living and nonliving world, our kids learned a lot about themselves. They learned that serving others is important. They learned that they can challenge themselves. They learned that they can successfully get a bus full of kids to scream at the top of their lungs as they go through the tunnels near Two Harbors and so much more!
Bringing each night to a close, our chaperone group would sit down and talk about the successes of the day. Needless to say, our kids gave us a lot of material. I too have been reflecting a lot lately upon the necessary ingredients of a great experience at school. Sure, it starts with phenomenal kids and families, but I'd also like to highlight that it is anchored in the teachers that set foot in front of our kids that truly makes the difference. In regard to our field trip to Wolf Ridge and our 6th grade team, I'm incredibly thankful for educators who are willing to take a chance and do something different on behalf of our students. I'm appreciative of the time they were willing to take away from their own families, so as to make a difference for someone else's child.
In addition to the teachers and the kids that make PLMS such a wonderful place to learn, I also want to take a moment to express our gratitude to the funding partners that helped to pull off this incredible Wolf Ridge opportunity. Our PLMS Patriots would like to extend a sincere thank you to: Dan and Janet Dryer & Friends, The Patriot Foundation, Whitefish Area Property Owners Association, The Pelican Lake Conservation Club, and others. We'd also like to thank the Freking family for dropping off twelve dozen donuts the morning of our trip! We are proud to say that, between gracious donations and district support, not a single dime was spent by our student body to participate in this event ... no bake sales, no fundraisers, nothing. Join our PLMS team in celebrating that every kid had an equal opportunity to go on the trip without cost. Again, we are so grateful for a supportive community.
In the end, we'd really like to circle back to our students. We all know that the last two school years have been a challenge for many. I had the good fortune of spending much of my time at Wolf Ridge in a climbing harness amongst the tall pines, helping our students through the high ropes confidence course. The mantra we instilled in our kids on the course was "take a step toward challenging yourself … and then take one or two more". What a great life lesson that we as adults could benefit from as well.
Found somewhere in this edition of the Pine and Lakes Echo Journal you'll find a list of our A and B Honor Roll students. Whether it's kids who tackled their fears on a zip line at Wolf Ridge, or a middle schooler grinding through homework at the kitchen table, we want to say "thank you" to all of the kids at PLMS for a great start to the year. We're proud of you, and you should be proud of yourself!