Guest Column: What's in a name?
George Angus Barclay founded Pine River in 1873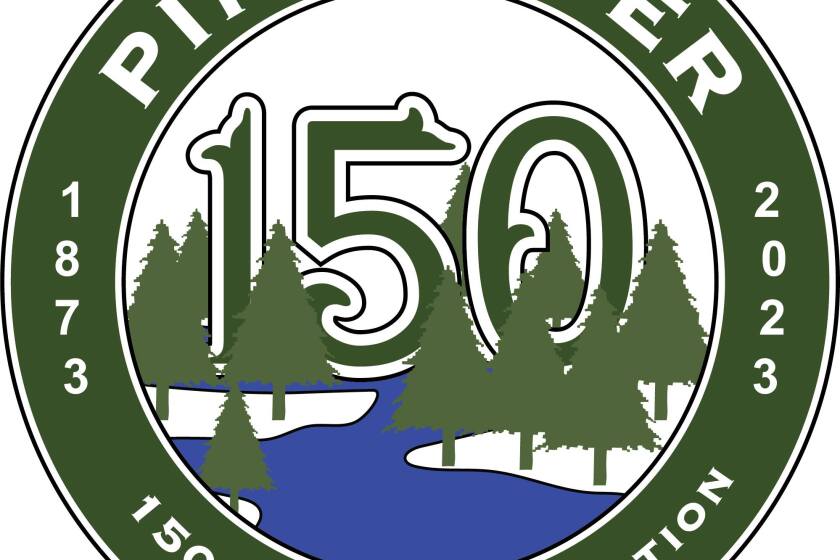 If you've been uptown in the last few months, you may have noticed the 150 year celebration banners lining Pine River's main street, also called Barclay Avenue.
What's in a name?
Main Street got its name from George Angus Barclay, who founded Pine River in 1873. His original trading post site is located near the Hassman Hill bridge south of Pine River.
Pine River will celebrate its 150th birthday by starting "at the very beginning, a very good place to start," as Julie Andrews sang in the movie "The Sound of Music."
In reading the history of George Barclay in the "Logsleds to Snowmobiles" book, you will discover that George Angus Barclay, who spoke with a Scottish accent, was born Aug. 18, 1844. His brother, Alexander, enlisted in the Union Army on Sept. 15, 1861, but George was too young and had to wait until Aug. 15, 1862, to enlist.
George became a wagoner with Company A, Ninth Volunteer Infantry. Supply lines were essential and being a wagoner was important, and perhaps helped him with his trading post later on. Brother Alexander was with Gen. Sherman on his "march through Georgia to the sea."
George was honorably discharged on Aug. 24, 1865.
In 1873, George decided to buy land and establish a trading post along the Pine River. According to the "Logsleds to Snowmobiles" book, he purchased 840 acres of land along the Pine River at $1.25 per acre under an 1820 federal law designed to encourage the settlement of farmers on forest lands.
At that time, Dennis McNannie, believed to be part Ojibwe, settled on 80 acres near Barclay. That year the two of them constructed a trading post, the site of which today is marked by a hole 19 feet square and 5 feet deep.
Their partnership continued until December 1875.
Tours of this site located south of Pine River will be held on the first day of the 150th celebration Thursday, July 6, 2023. The tour will be conducted by Collin Swift, the owner of the property who has researched the history of the trading post.
Two years after building his post on the south branch of the Pine River, George decided to move and expand his activities. He chose a site on higher, more open ground.
The complex, later known as "Barclay's Ranch," consisted of a half dozen buildings centered on four quarter sections of land, essentially the present corporate limits of Pine River.
Documents provided by the Cass County Assessor's Office of the purchase will be on display at the tour. George's final purchase of 80 acres was purchased on June 7, 1883, from the Northern Pacific Railway Company for $329.36.
George was a visionary and it is speculated that he knew the railway was coming this way and established his ranch near where he anticipated the railroad to run.
On July 27, 1878, George Angus Barclay married Ammarilla Spracklin in a ceremony that took place at a friend's house. George's bride was the first permanent white woman settler on the Pine River.
By 1881, the Barclays were still the only "permanent habitation" between Gull Lake and Leech Lake.
George and Ammarilla's son, named George Alexander, was born Jan. 10, 1880, but he died 17 months later on June 19, 1881. He is buried in the Evergreen Cemetery in Brainerd.
A daughter, Grace Ammarilla, was born April 10, 1882, and she married Ronald S. McDonald. They had eight children, one of which, the first baby born in 1899, died. The eighth baby, named Grace, died with her mother Grace on Dec. 23, 1911.
George and Ammarilla continued to expand their holdings and built Hotel Barclay, also known as the "White Elephant," in 1894. It was in that hotel on Oct. 29, 1898, only 25 years after establishing his trading post, that George was murdered.
The murder was never solved and remains a cold case in Cass County records to this day.
George was a wagoner and tentative plans are to have a horse-drawn wagon for the tour of the trading post's original site. The event will start with a tour of the cemetery and will continue on to the trading post site.
Tours are scheduled for Thursday, July 6, 2023. We invite you to tour the site where it all began. Come learn more about our founding father, George Angus Barclay.
(This column was written using excerpts from the "Logsleds to Snowmobiles" book; information obtained by Bonnie J. MacDonald, retired professional genealogist and great-granddaughter of George and Ammarilla Barclay; and information from Bonnie MacDonald's Wordpress Blog: The Barclays of Pine River-The Lives of George and Ammarilla Barclay.)
Pat Johnson is a member of the Pine River 150th Year Committee.