Big Dipper in Hackensack raises $1,300 for local nonprofit
Event celebrates National Ice Cream Day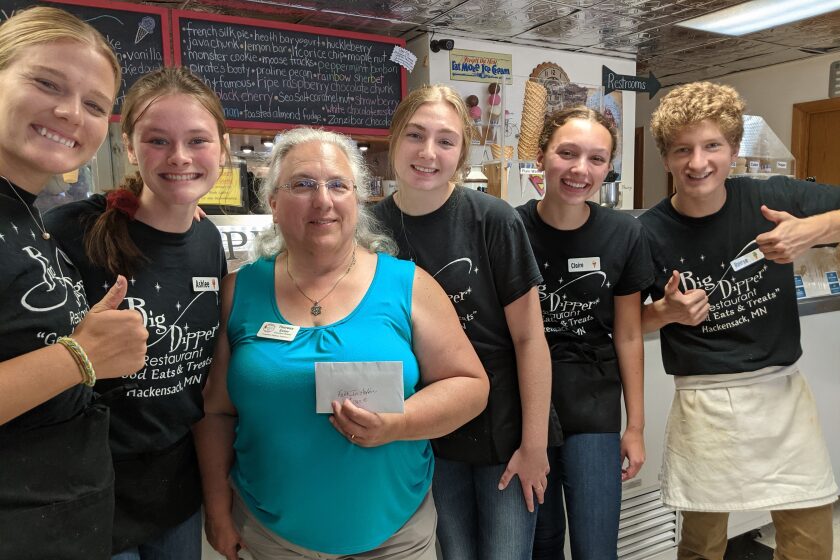 HACKENSACK — Visitors to the Big Dipper in Hackensack on July 17 were greeted with "Happy National Ice Cream Day! Would you like to buy an ice cream sandwich?"
Staff at the Big Dipper handmade huge ice cream sandwiches with monster cookies and the buyer's choice of ice cream and dedicated the proceeds to Faith in Action for Cass County. Customers could enjoy the ice cream at the Big Dipper's outdoor seating or call ahead for ice cream sandwich orders, some people taking home a dozen for their freezers.
"The Big Dipper staff would like to thank everyone for participating in our fundraiser for Faith in Action in Hackensack," Big Dipper owner Jeannette Dudley said in a news release. "We raised over $1,300 for Faith in Action for Cass County, a great local nonprofit organization. We all appreciate your support."
Faith in Action for Cass County is a community-based, nonprofit organization providing nonmedical assistance to older adults, veterans, adults with disabilities, and individuals experiencing difficult circumstances, including caregivers in need of support.
Volunteers provide transportation, telephone visiting, delivery of groceries, medications and Meals on Wheels. Faith in Action connects folks isolated in their homes with volunteers who enjoy chatting and visiting by email and helping them to stay active in their communities.
Call Faith in Action at 218-675-5435 or go to www.faithinactioncass.com to get connected.