Be a Pal program provides connections to the elderly in the Brainerd lakes area
The Be a Pal program by Jess Vogt helps to pair those in retirement homes with pen pals to brighten their days.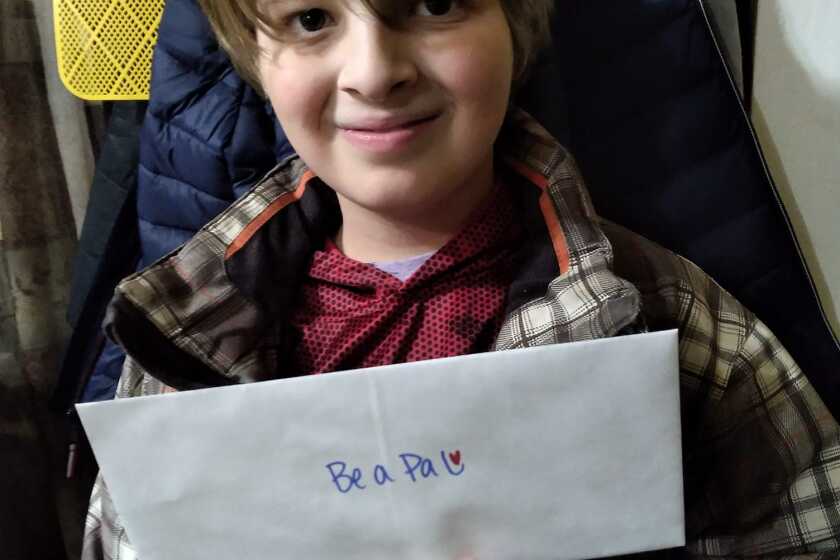 BRAINERD — Since the start of the coronavirus pandemic, residents of retirement facilities everywhere were hit particularly hard. Many restrictions went into place limiting contact with people outside of the facilities, leaving residents feeling particularly lonely.
That gave Jess Vogt, of Brainerd, an idea.
Our main focus is to support the residents' social and emotional well-being through connections and handwritten letters.
Jess Vogt
"During COVID, I was actually at home with my kids doing homeschooling," Vogt said. "And we were just kind of looking for ways to stay involved in the community, and I had the idea of getting a pen pal at a senior living facility."
What started as a personal project grew when Vogt reached out to Carefree Living in Brainerd.
"I asked if they had anybody that would be interested in being a pen pal," Vogt said. "She had said, 'You know, actually, I think there's quite a few.'"
From there, Vogt's nonprofit "Be a Pal" started. She started by finding participants. She made holiday cards for all the residents at Carefree Living. Into each card she inserted an index card inviting the residents to request a pen pal.
"They just gave me their name, their birth date and their hobbies," Vogt said. "Out of the 32 residents, 12 responded that next week. And so I reached out to some friends and family and got some additional pals. And that was kind of how it was born."
That's very much how the program works to this day. Vogt hand delivers cards to five participating facilities: Carefree Living, Northern Lakes Senior Living in Brainerd, Heartwood in Crosby, Hills Crossing in Nisswa and Breath of Life Day Program in Brainerd. Interested residents fill out the card, and Vogt looks for matches based on the residents' hobbies.
These matches are called pals.
Pals are the first ones to write. Depending on where they live they either send the letter by mail or Vogt delivers them by hand to the facility.
"Every Monday I pick up from the community members, and every Wednesday at a specific time I go to each of the facilities to drop off," Vogt said. "I provide the envelopes, postage and everything so all they have to do is write the letter."
Vogt has recruited pals through her friends and family and through other community groups like the Brainerd Youth Center and Kinship Partners. The largest number of pals has been recruited through the Be a Pal Facebook page. So far the group has recruited approximately 70 pals, including Amber Wink.
"They talk to me about everything," Wink said of the residents she writes to. "They talk to me about their past like growing up and stuff like that. What they did or things that they miss or what they're doing in their group or about their feelings. I've had a couple talk to me about that.
"In all honesty, it makes me feel pretty special that they entrusted me in talking to me and stuff like that. I strive and tell everybody that they should be a pal," Wink said.
Wink has three pals. Her 13 year old daughter also has a pal, and her 8 year old son is often asked to write a letter to her pals as well.
"I write at least every Wednesday," Wink said. "Then for Christmas we give a little gift or something like that."
Wink's pals have shared their ups and downs with her. They talk about how COVID-19 restrictions and concerns make them feel; about the friends in their community that they have lost.
"We've talked about the loss of my dad," Wink said. "Because loss is a big thing and just to let them know they're not alone. Then we talk about big things about my kids. They love when I talk about my kids. One was a teacher, so they love hearing about when they are doing well in school and things like that."
She learns a lot about her pals. One used to train obedience dogs. One woman used to love motorcycles and owned three of them.
They're all unique.
"One I thought was interesting, his favorite color is flamingo," Wink said. "He told me how flamingos get their color. My big thing is how they talk about their family and how much their family means to them."
Vogt wants the program to grow.
"We're currently at five facilities in Crow Wing County," she said. "By the end of the year we'd like to be in at least 10. We're also looking into maybe involving hospice care and seniors that live at home and would like to participate. I don't want to limit it to just facilities. Eventually we'd like to open it up to any senior that is interested in the program."
So far, Vogt operates the organization with the help of just four board members and some family assistance. They have no funding other than what Vogt provides. As it grows, Vogt said they are looking into seeking funding and staffing options.
Vogt is open to facilities and community members who want to participate. They can find Be a Pal on Facebook or at beapalmn.org.
"Our main focus is to support the residents' social and emotional well-being through connections and handwritten letters," Vogt said.
"Having a pal just helps us realize how important interaction and communicating with people is," Wink said. "I wish they had this before. There are some residents that only have interaction with their nurses. This gives them the opportunity to be able to talk to other people and feel special, especially now."
Travis Grimler is a staff writer for the Pineandlakes Echo Journal weekly newspaper in Pequot Lakes/Pine River. He may be reached at 218-855-5853 or travis.grimler@pineandlakes.com.