Crosslake: Council, residents unsure about government facilities' future
Crosslake City Council members learned that improvements to the city's government building are estimated at $11 million for a renovated facility to nearly $13 million for a new structure.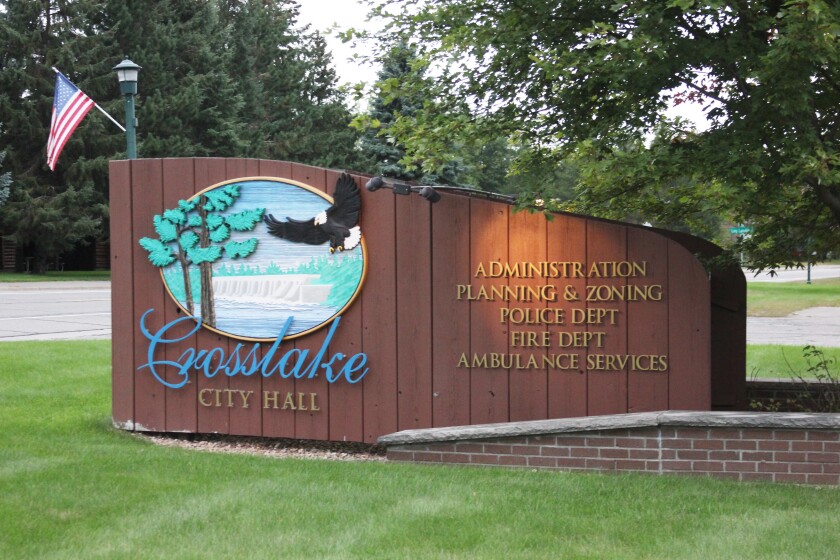 Crosslake City Council members learned that improvements to the city's government building are estimated at $11 million for a renovated facility to nearly $13 million for a new structure.
Representatives from Five Bugles Design reported findings from a facilities study to the council Monday, Oct. 8, at a special meeting at city hall. The council agreed in July to do the facilities study of Crosslake's 20-year-old city hall, police department and fire department building before making decisions on any renovations or updates.
Five Bugles requested Monday's meeting before making final recommendations. The workshop informed the council and the public and opened the floor for conversation, but no action was taken.
Mike Clark, program manager, said that after their initial work, Five Bugles wanted the council to process the information presented and give the design company further direction regarding budget and priorities. The council was given roughly 30 days following Monday's meeting to deliberate before directing Five Bugles on how to proceed.
Clark presented the conclusions regarding the current condition of the facilities, space requirements for each department to perform at its best and cost implications to resolve issues.
Facility conditions
• The building is currently classified as a residential structure due to its design rather than a commercial structure.
• The masonite siding on city hall is failing. No flashing was attached upon construction, allowing water to come into contact with the edges of the siding.
The emergency medical services portion of the building has cement-based siding, so it has resisted water damage.
• Water efflorescence was found where wood paneling meets brick outer walls. The city should operate under the assumption that there is water in all of the walls.
Installing new insulation is recommended.
• There is a dark substance on some of the air vents in the hallway, and there has been talk of previous mold issues in other parts of the building.
• The metal roof and wooden frame of the building appear to be in good condition.
Space needs
The fire department would need the largest expansion to run the most effectively, according to Five Bugles. The existing space is 9,400 square feet, and the projected needs would expand the facility to 26,400 square feet.
Recommended additions include:
• More garage space is encouraged to accommodate future growth.
Current bays are smaller than ideal and would not be able to fit a ladder truck should the department invest in one. The recommended change would include four double-deep drive-through bays, two ambulance bays and four garage size bays.
• Health and safety upgrades are necessary to prevent cancer and other job-related health problems. Changes would include adding showers, lockers and decontamination spaces. Fire staff should not be taking clothes home to wash with everyday laundry, as they may contain dangerous chemicals.
• The department should consider overnight duty crews and facilities to support them. This would mean a recommended five sleeping rooms, two for EMS and three for fire crews.
• Office and work space is limited. There is a lack of storage ability for equipment outside the bays, and there is not enough space for adequate record keeping in the single department office. Training currently takes place on other properties due to lack of space.
The existing police department measures 1,600 square feet. The projected expansion would increase that to 10,500 square feet.
Recommended additions include:
• The department lacks security and confidentiality. There is currently no private space for statements to be taken, complaints to be made or booking to occur. If officers need to bring someone in, they must be taken to the county jail for privacy.
The department should also invest in a secure public lobby separated from the workplace.
• A squad garage is needed for cold weather to prevent stalling.
• Staff should have access to lockers and showers.
The city government hall currently fills 5,000 square feet of the facility. Projected expansion raises that total to 9,800 square feet.
Recommended additions include:
• The city government should have a secure lobby with greater safety precautions.
• Enlarged public meeting spaces would accommodate a greater number of attendees and variety of uses.
• Additional offices should be available for future full-time staff additions. Currently, there are exactly enough offices for the number of employees with no room for growth.
Cost implications
Five Bugles offered two preliminary options for meeting all recommended changes to the facility. Clark said they have not run specific numbers because they wanted input from the council. He said the company will work with the city to find a solution that fits both needs and budget constraints, even if it isn't one of their initial suggestions.
The first option they floated is an entirely new Crosslake government complex. The total size of this complex would be 46,700 square feet. Total construction cost is estimated at $10 million with a total project cost of $12.7 million.
The second option renovates the existing building to house city hall and the police station, building a new fire station at another location. The new construction would measure 26,000 square feet and cost $7.5 million. The renovation would measure 17,100 square feet and cost $3.5 million. In total, this project is projected to cost $11 million.
Several members of the council said they felt "sticker shock" following the presentation, meaning that the initial price tag on this project was much higher than they anticipated.
Mayor Patty Norgaard asked Clark whether towns have been able to receive grant funding for these kinds of projects. Clark said that grants for brick and mortar construction are rare, but there are more options available when looking for materials and staff to fill the building.
Members of the public also came forward to give their opinions about updating the city government facilities.
Ted Strand, public works director for Crosslake, talked about the issues he has dealt with in his 18-year tenure with the city's facilities, including complaints of mold and exhaust vent issues throughout the building.
"Enough is enough," said Strand. "Something needs to be done."
Jim Anderson, Crosslake resident, wanted more community input before the council would make a decision on next steps with this project.
"People can be afraid to come up and voice their opinions, but there's lots of ideas out there," said Anderson.
Later Monday, at the council's regular monthly meeting, council members talked about buying land for facility expansion. Council member Dave Nevin voiced concern that the project was too big in both physical size and cost.
"It seems to me there has to be a better option," he said. "Have things really changed that much in 30 years?"
Nevin said they should purchase the property for sale next door to the current city hall regardless of whether they have a full plan for how to update the facilities.
"The value over there is the land," said Nevin. "The buildings are besides the point. They're a good temporary structure until the right thing gets done."
Nevin made a motion to purchase the land, but the motion failed due to lack of a second.
Paul Hiniker, the owner of the property, addressed the council and offered to give the city a little more time before making a final decision.
"We really want the city to have that land," said Hiniker. "But we can't sit on it forever."
The council decided to continue discussions on the best course of action going forward and no action was taken Monday.