Cass County: Social distancing continues in county operations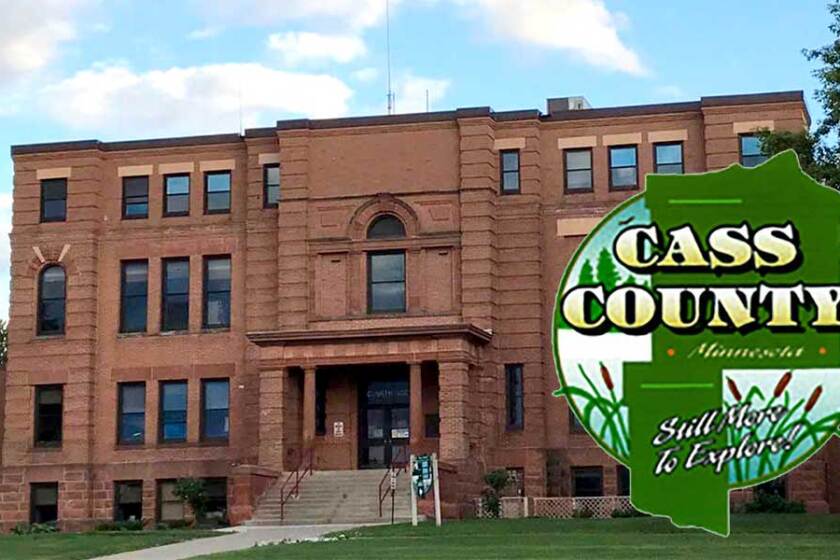 The Cass County Board met Tuesday, May 19, in Backus rather than the previously scheduled location of Leader Community Hall due to social distancing restrictions. Roll call was taken with board members Dick Downham and Scott Bruns joining via phone conference. Other presenters also joined via phone conference due to COVID-19 regulations and social distancing.
Joshua Stevenson, Cass County administrator, recommended limiting public access to county buildings through June 2, with courtrooms and court proceedings remaining open. Although the stay-at-home order is over, there is a stay-safe order in effect and this would be consistent with that order.
Also, certain Occupational Safety and Health Administration standards are currently requiring this limited access. Stevenson said when the courthouse does allow public access, there will need to be precautions put into place, such as restricting the use of certain exits.
The board approved extending the limited access to the county buildings through June 2 and will revisit the decision at the next board meeting.
Stevenson shared statistics with commissioners on recorded documents between March 1, 2019, and May 11, 2019, compared to the same dates of the current year. The numbers were down approximately 138 documents.
Stevenson said Sourcewell loaned the county two 3-D printers plus the pigment and Plexiglas, free of charge, which will allow the county to make plastic face shields for residents on the front lines. With two employees working just an hour a day approximately 12 face shields can be made. These face shields will be given to county staff who have contact with the public first and then they will give them to area nursing homes and emergency response staff.
The meeting notes from the Solid Waste Committee were discussed during the meeting as a motion needed to be made to add option 2 for the replacement of the Pine River Transfer Station buildings to the capital plan, create an operations plan for the new facility, pursue funds to begin the project as soon as possible and raise the tipping fee for municipal solid waste $2 per ton effective July 1.
There were three options presented during this meeting with option 2 allowing the current transfer station contractor to keep working while construction takes place. This motion was passed unanimously.
The next board meeting will be at 9 a.m. Tuesday, June 2, at the Land Department Meeting Room in Backus.
In other business May 19, the county board:
Gave special recognition for a letter received concerning Perfect Performance for 2019 Financial Reporting to the Minnesota Department of Human Services.
Established a public hearing for the vacation, revocation or abandonment of Whipholt Beach Road Northwest (old Truck Highway 34) at 6 p.m. June 16 during the regular board meeting at Pine Lake Township Hall. It was mentioned this meeting must be conducted in the township the road is located in. The county is currently looking at the township hall to decide the best possible way to conduct the meeting with social distancing practices.
Heard the Longville Ambulance report from Kevin Lee, ambulance services manager for North Memorial Health. Lee shared there was a decrease in activity for the first quarter possibly due to COVID-19 and most citizens reluctant to go to the hospital or not out and about. Lee stated all areas of Minnesota are seeing a decrease in activity.
Adopted a resolution providing on-sale liquor license fee relief for 2020 renewals only for on-sale intoxicating licenses, including wine/strong beer and combination licenses. The fees will be reduced from $1,500 per year to $1,000 per year for on-sale liquor license fees; on-sale wine, with strong beer authorization, will be reduced from $300 per year to $200 per year; and combination licenses of on-sale intoxicating and off-sale intoxicating will be reduced from $2,000 per year to $1,340 per year. All other ordinance requirements will remain in effect including late payment fees.
Adopted a resolution establishing the withholding for reforestation and trails prior to the tax forfeit distribution. The board set aside 30% of tax-forfeited settlement for reforestation and 20% of tax-forfeited settlement was set aside for maintenance of county recreational areas.
Approved changing the tax-forfeited land sale date to 9 a.m. Oct. 10 at the Cass County Courthouse. This sale was originally scheduled for June 13, but was changed due to COVID-19, social distancing requirements and to ensure the health and safety of customers and staff. Kirk Titus, Cass County land commissioner, was on hand to present this request and said the law states the sale has to be conducted in person and at the county courthouse. With these requirements, he said there is limited space to conduct the sale and still maintain social distancing.