Cass County Board: Grant helps alleviate some of nearly $4 million tax refund owed to Enbridge
Cass County's total tax refund liability to Enbridge is $3,824,072.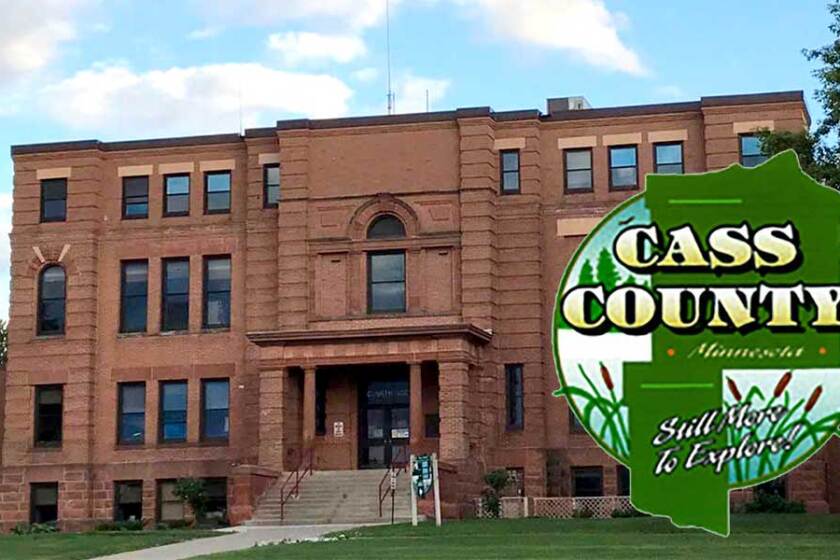 CASS LAKE — A state grant will help Cass County cover a portion of its tax refund to Enbridge Energy.
Chief Financial Officer Sandra Norikane provided the update on Enbridge's tax lawsuit during the Tuesday, Aug. 17, Cass County Board meeting.
Norikane said on June 30 a settlement agreement was reached between Enbridge and the Department of Revenue for assessment years 2012-2016 to be paid with interest and assessment years 2018-2019 without payment of interest. Cass County is one of 13 counties affected by this settlement, and its total tax refund liability to Enbridge is $3,824,072, with interest calculated in the amount of $711,446.43.
At a previous board meeting, the commissioners approved adopting a resolution to request the state of Minnesota pay any refund payable to Enbridge Energy. On Tuesday, Norikane told the board local governments were awarded a one-time grant to help cover this tax liability. Cass County received a grant in the amount of $2,631,052. Though it still leaves the county with owing money to Enbridge, Norikane noted the county can now negotiate with Enbridge Energy. She mentioned some neighboring counties have already paid full amounts and some counties are going to try to negotiate the interest rate from the current 4% down to 2%. Norikane first suggested the county pay the amount immediately, but after being notified of a possible negotiation, it was recommended the county wait.
The board took Norikane's suggestion into consideration and motioned and approved holding off on making the payment to Enbridge Energy until after a possible negotiation and to make the payment by using grant funds and funds from the uninsured claim reserve.
Norikane also updated the board on the American Rescue Plan Act Grant by asking for the board to approve a county project, direct cash assistance to various businesses and nonprofit organizations and two projects requesting a 20% match. Approximately 138 businesses or nonprofit organizations requested the direct assistance grant and there was still approximately $410,000 remaining in that fund.
Residents Jerome and Jan Jennen attended the meeting to request the board reconsider the denial of the reclassification of 40 acres of their property from Ag Forested to Rural Residential to allow them to divide it into four 10 acre parcels to be sold. After a public hearing with numerous comments opposing the reclassification, the Cass County Planning Commission denied the request at its Aug. 9 meeting.
The Jennens believed they were being discriminated against and grouped in with other people who disturbed the area with their four-wheelers. All they would like to do is sell their land in smaller parcels to individuals that would like to live up north. The planning commission feels if the land is divided into smaller portions, expenses would be increased for the county. Commissioner Neal Gaalswyk said residents should look at the county's plan when purchasing land, as the goal for Cass County is to maintain large areas of agricultural land for hunting and farming. If land begins to be reclassified and split up in smaller portions there would be large clusters of houses and little room for farming. The board motioned and approved to uphold the Planning Commissions recommendation and deny the reclassification request.
In other business, the county board:
Heard a summary of the personnel committee meeting and approved the addition of an administrative agent and the elimination of the office support specialist, both positions in the probation department. Also, the board tabled filling the vacated forest resource manager position pending a review of the proposed work plan with the recently approved LIDAR (light detection and ranging) inventory program.
Authorized the land commissioner to issue emergency hay stumpage permits for county land at no cost on a first come, first served basis due to the extreme drought.
Approved state land acquisition of four parcels on the Roger's Point area of Miller's Bay for an aquatic management area.
Adopted the Cass County Comprehensive Plan Update after a public hearing.
Approved a truancy intervention-collaborative response for the 2021-2022 school year, which will commit a probation officer and social worker to attend established school attendance review boards.
The next meetings are as follows: Commissioner's board meeting, 9 a.m. Sept 7. at the boardroom in the courthouse annex in Walker; Association of Minnesota Counties Fall Policy Conference, Sept. 16-17, at Arrowwood Conference Center, Alexandria; and commissioner's board meeting, 6 p.m. Sept. 21 at Pillager City Hall, 306 Elm Ave. W., Pillager.