Cass County Board: County buildings open to the public
Cass County Board cites decreased COVID-19 activity and increased vaccine availability.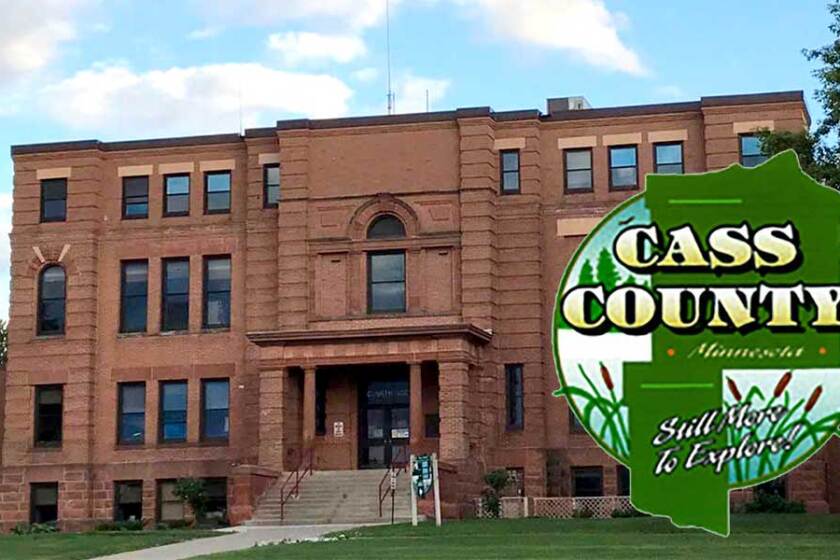 BACKUS — The Cass County Board approved restoring public access to county buildings at the Tuesday, May 4, board meeting.
County Administrator Josh Stevenson stated with decreased COVID-19 case activity and vaccine clinics having available appointments, it is recommended to allow public access to county buildings beginning Wednesday, May 5.
Suzanne Hinrichs, regional director Northeast Region of University of Minnesota Extension, provided an update on various programs offered in Cass County. Some of these programs are nutrition classes for Supplemental Nutrition Assistance Program participants, healthy meals in classrooms in area schools and seven community gardens around Cass County.
Hinrichs then introduced Brooke Remer, 4-H Extension educator, Kate Holland, Interim 4-H Extension educator, and Lori Hall, Regional Extension educator, to update the board on the 4-H program. Holland said the 4-H program continued to thrive throughout the coronavirus pandemic. Out of seven clubs throughout Cass County, six clubs meet at least once a month either in-person or virtually. Some of the various programs offered included a winter roundup, livestock in a box, down on the farm, tasty Tuesdays, black and white photography challenge and cat crafts. Holland did inform the board that 4-H participants will be presenting projects in-person, with a virtual option, at the Cass County Fair this year with the chance to advance to the Minnesota State Fair.
Chief Financial Officer Sandra Norikane presented a request to the board for relief on the 2021 on-sale liquor license renewals. This proposal was presented to board members in response to their request to help businesses affected by the COVID-19 shutdowns this past year. The proposed renewal fees will be reduced from $1,500 per year to $1,275 per year for on-sale liquor license fees, on-sale wine, with strong beer authorization, will be reduced from $300 per year to $255 per year and combination licenses of on-sale intoxicating and off-sale intoxicating will be reduced from $2,000 per year to $1,700 per year. All other ordinance requirements will remain in effect including late payment fees. This did not include relief for any other licenses businesses may renew as off-sale liquor and tobacco product sales did not seem to be affected by COVID-19. The board unanimously approved offering relief for the 2021 on-sale liquor license renewals.
RELATED: Cass County Board: Camp Ripley official updates county on 2020 activities Camp Ripley plans to host its annual fall open house the second weekend of September, which was canceled last year due to COVID-19.
Environmental Services Director John Ringle informed the board the owners at the Walker Home Center requested to have the recycling bins removed by June 1. This is due to the increase in volume of recycling and the corresponding traffic it brings. Ringle met with the Walker City Council on Monday, May 3, to discuss other possible locations for the recycling bins. Commissioner Bob Kangas asked if it would be beneficial for the city to have two separate locations to reduce overflow by having just one location. Ringle stated that could be a good possibility and said the city was going to meet privately and reach back out to him soon.
Ringle also discussed an email he received that had a good video on recycling and what is recyclable and whether it is worth it to recycle. The video can be found on the county's website under "What's New..." by clicking on "All News" or by going to https://n.pr/3uzxh88 .
In other business, the county board:
Appointed Darrick Anderson as Cass County Highway Engineer for another four year term.
Approved the third reading and final adoption of the Tobacco Ordinance to adopt revisions necessary to comply with current state and federal laws, which raises the minimum age to sell tobacco products from 18 to 21.
Approved a request from the city of East Gull Lake to commit $100,000 from Fund 73 as matching funds for future trail projects.
Heard a COVID-19 vaccination update from Jamie Richter, public health nurse, stating clinics are going well and there are now openings available for walk-in traffic. If somebody is wanting to get their vaccination they can visit www.co.cass.mn.us/covidclinic to find the next opportunity.
Reviewed and established a public hearing for the 2021 Cass County Capital Improvement Plan. The public hearing will be Tuesday, June 1, at the regular board meeting in the Courthouse Annex boardroom in Walker.
Approved an agreement with the city of East Gull Lake for the road transfers associated with the County State Aid Highway 70 project.
Awarded the contract for an aggregate base and reclamation project on County Road 139 and a culvert replacement and bituminous patching project on County State Aid Highway 3 to Young Excavating in the amount of $524,216.
Adopted the 2021 bridge replacement priority list as presented.
Approved providing solid waste containers for the purpose of a community assisted public nuisance cleanup.
The next meetings are as follows: Commissioner's board meeting, 6 p.m. Tuesday, May 18, at Loon Lake Township, 1346 56th St. SW, Pequot Lakes, and commissioner's board meeting, 9 a.m. Tuesday, June 1, at the boardroom in the courthouse annex in Walker.