Grim's Grub: The ultimate snack and its appropriate beginnings
How one opportunistic hotel employee became world famous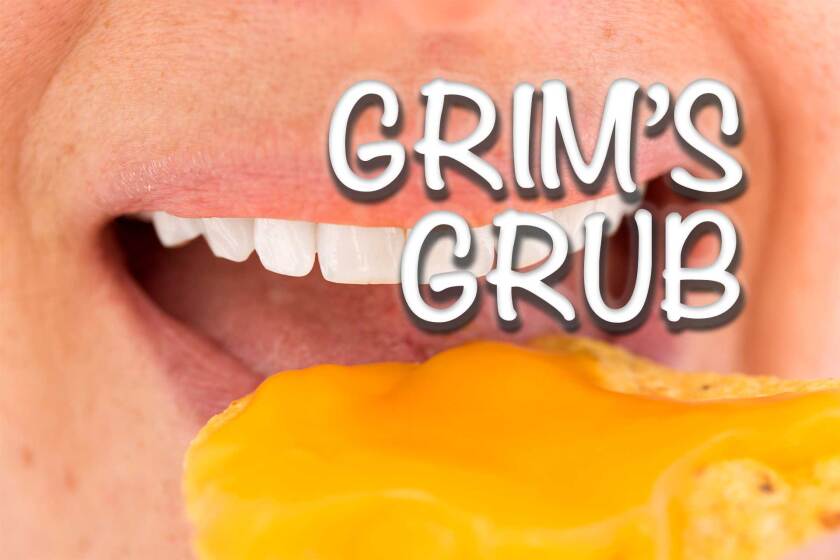 We are part of The Trust Project.
Very few are the inventors who, long after their moment of fame, continue to have their names mentioned every time their invention is put to use.
Such is the great fortune of Ignacio Anaya ... well, sort of.
Ignacio was a maitre d' of a hotel called the Victory Club in Piedras Negras in Mexico, just across the border from Eagle Pass in Texas.
If you look at a map online, the two cities look like one of those sitcom sibling bedrooms where one sibling puts a line of tape down the center and threatens holy retribution if the other ever crosses.
However, that border, in some ways, was less restrictive than the tape in the aforementioned shows.
Eagle Pass is home to a military base, and it was a frequent occurrence that the inhabitants of Eagle Pass, military base included, would cross the border into Piedras Negras for lunch, shopping or to visit.
It was such a trip that made Ignacio famous in households, movie theaters, athletic arenas and more.
A group of women shopping in Piedras in 1940 stopped at the Victory Club, and Ignacio went above and beyond the call of duty. That's because the Victory Club was closed for dining. Why the women chose the closed establishment, or why Ignacio let them in anyway is a mystery.
He decided he could serve them without any help. No servers, no cooks — just Ignacio. While he didn't have the establishment's normal menu, they agreed that anything he could provide would be good enough.
So Ignacio got to work.
There wasn't much that didn't require normal, extensive cooking. There was a jar of pickled jalapenos here, a block of colby cheese there and totopos. He put them together and baked them before serving them in a dish that some people have compared to bite-sized open faced quesadillas.
His belated customers were delighted and kept asking Ignacio to provide them with more of his "special." The dish made it to the regular menu with Ignacio's name on it.
Ignacio moved across the border to Eagle Pass and opened his own restaurant, named after himself and his dish. Ignacio's name became an increasingly common word, making it into "A Taste of Texas," a book about the local Texas cuisine as the dish grew in popularity.
In 1959 it had expanded beyond the borders of Texas and had reached Los Angeles via server Carmen Rocha at El Cholo Mexican Restaurant.
The version known today in movie theaters and sporting events, with melted cheese sauce, came from Frank Liberto, who introduced it to Arlington Stadium in 1977. Even then, Ignacio's name was spoken every time it was served.
Howard Cosell played a major part in helping it spread even further as he raved about it during broadcasts.
Ignacio died in 1975, and while we might not realize it, we speak of his fame and innovation every time we eat his special. No doubt his friends knew what was up whenever they spoke of Ignacio, a name commonly shortened to "Nacho" among Hispanic communities, well before we came to know nachos as the snack food we still make when we only have random ingredients available.
8 ounces tortillas
1 pound chorizo, spiced chicken or taco meat, cooked
Pickled jalapenos, to taste, chopped
4 ounces sour cream
1/4 cup baked beans (optional)
1 bunch of green onions, chopped
8 ounces colby cheese or a Mexican blend
Salsa
Preheat your oven to 375 degrees.
Start with a 12-inch pizza pan. Lay out a single layer of tortilla chips, not excessively overlapping. Sprinkle 1/4-1/3 of the chorizo, cheese and onions onto this first layer. Place this into the oven for up to 5 minutes. Remove from the oven and repeat the first step 2-3 times until you've exhausted your ingredients.
The beans may be served in a dish on the side, as can the sour cream. If all diners like them, they can also be added to the top of the dish — the baked beans before the final time in the oven, the sour cream after.
To ensure maximum coverage, I like to put the sour cream into a piping bag and use it to squeeze out a thread of sour cream on top of all of the chips, so everyone gets some.
Serve with salsa.
1-2 sheets of lefse
1/4 cup melted butter
1 tablespoon sugar
1 tablespoon cinnamon
1/4 cup of your favorite candy, chopped
1/8 cup white almond bark, shredded
1/8 cup of frozen cream cheese, shredded
1/4 cup sour cream
1/2 tablespoon sugar
1 dash vanilla extract
1/4 cup diced strawberries
1/4 cup diced kiwi
1/4 cup diced tart pineapple
1 tablespoon additional sugar
Whipped cream
Begin by preheating the oven to 300 degrees.
Use a pastry brush to brush the lefse sheet with butter, then sprinkle the combined 1 tablespoon each of sugar and cinnamon on top until it suits your taste. Layer on a cookie sheet and bake for 10-15 minutes or until golden and crispy. Set these aside to rest.
Place the chips onto a large plate or pizza pan in a single layer. Sprinkle your candy onto the chips, being careful not to crush the chips. Sprinkle almond bark and cream cheese shreds over the chips and place the plate into the oven to melt, or microwave for 30 seconds or until melted.
While heating, combine the sour cream, 1/2 tablespoon sugar and vanilla in a bowl. In a separate bowl, combine the strawberries, kiwi and pineapple with the last tablespoon of sugar. Allowing this to rest will draw out liquid.
Once the almond bark and cream cheese are melted, drizzle the sour cream topping over the chips as evenly as possible. Add a large dollop of whipped cream into the center and serve with the fruit cocktail salsa.
Travis Grimler is a staff writer for the Pineandlakes Echo Journal weekly newspaper in Pequot Lakes/Pine River. He may be reached at 218-855-5853 or travis.grimler@pineandlakes.com.