Chef's Hat: Try this blast from the past
A blintz is a delightful little pastry that is similar to a crepe
From magazines to TV shows to the internet, there are an endless number of resources where you can find new recipes.
But even with all of the potential sources of new recipes, sometimes you just have to dig out those old recipe books and whip up one of those tried and true dishes that have been in the family for years.
One such pastry that used to be commonly served around my house is a blintz. These delightful little pastries are similar to crepes.
However, unlike a crepe, blintzes are always filled, sometimes with farmers or a similar cheese and other times with a cottage or ricotta cheese mixture.
They are paper thin "pancakes" and can be topped with fresh fruit or jam.
The batter is very thin and cooks quickly. The pancakes can be made ahead of time and then kept in the refrigerator until you are ready to stuff them.
Once stuffed with a sweet cheese mixture, the blintz is again cooked in a pan just until it is slightly browned.
At this point the blintz can be refrigerated or put into zipped bags and frozen for later use.
If the cooked blintz is frozen, it does need to be thawed in the refrigerator for several hours and then reheated in the oven just until it is warmed through.
The ideal way to heat it up is in a 350-degree oven for 15 to 20 minutes; but they can be warmed up in a microwave for 2 to 4 minutes.
Before serving, the pasty is topped with fresh fruit or jam. It can then be topped with nuts or whipped cream for an elegant dessert or an extremely rich breakfast.
Recently, I found a shortcut to make blintzes. Instead of making the crepe batter from scratch, replace this process by buying egg roll wrappers.
These thin wrappers might not be quite the same as crepes, but using them eliminates quite a few steps and saves time. And there is very little difference in the taste.
Looking for something a little different? Blintzes are festive enough for a holiday gathering. They also make great snacks and with a bit of fresh fruit you have a quick breakfast.
Don't forget these recipes that have been sitting around for years and years. They are just as good now as they were 20 years ago. Happy Eating.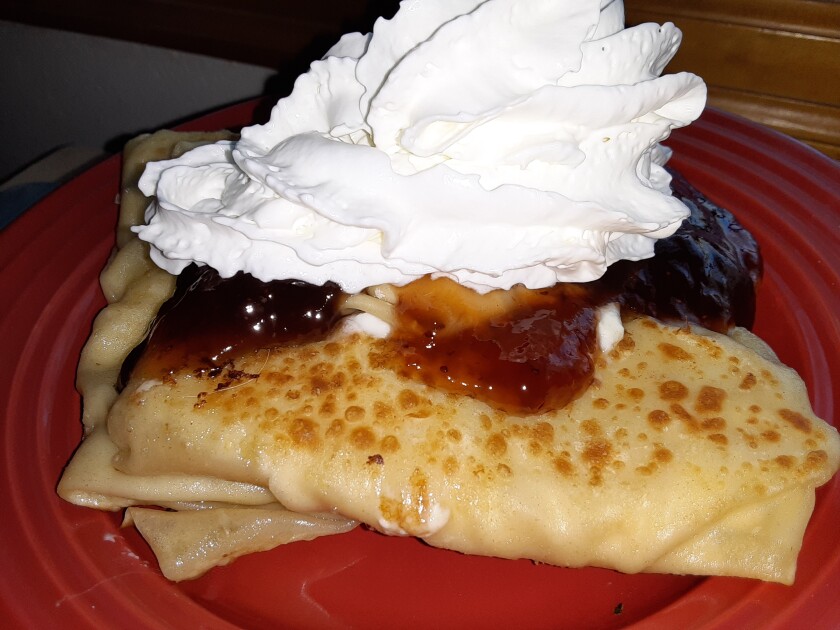 10 8-inch crepes (homemade or use egg roll wrappers)
1 1/2 cups ricotta cheese, strained if it is moist, or 1 1/2 cups cottage cheese
8 ounces cream cheese, softened
1 large egg
1 1/2 teaspoons vanilla extract
2 teaspoons lemon juice
½ teaspoon cinnamon
2 tablespoons sugar
Pinch of salt
Powdered sugar, for serving
Jam or fresh fruit, for serving
Whipped cream, for serving, if desired
Butter for frying
Heat oven to 400 degrees.
In a medium bowl, add the ricotta (or cottage) cheese, cream cheese, egg, vanilla, lemon juice, cinnamon, sugar and salt. Beat with a handheld electric mixer until thoroughly combined.
Place the crepe or egg roll on a flat surface. Place about ¼ cup of cheese filling along the lower end. Fold the crepe so it looks like a burrito. Roll the crepe on a plate a couple of times, tucking in the edges as you roll the crepe.
Heat a large, nonstick skillet over medium heat. Add 1 tablespoon of the butter. After the butter is melted, place several blintzes in the pan, but do not overcrowd or have the blintzes touching each other. Fry for about 2 minutes per side. The blintzes should be golden brown.
Line a baking sheet with foil. Place the blintzes on the prepared sheet. Place the sheet in the oven and cook for 8 to 10 minutes, just until the cheese warms. Remove the sheet from the oven and place the blintzes on individual serving dishes.
Top them with fresh fruit or jam. Sprinkle powdered sugar or whipped cream over the top. Serve immediately.
If not immediately eating the blintzes, they can be refrigerated or frozen. Do not place the fruit and whipped cream (or powdered sugar) on the top before refrigerating or freezing the blintzes.
4 eggs
1 cup milk
1 cup flour
¼ cup sugar
1 teaspoon vanilla
½ teaspoon salt
In a medium bowl, add the eggs and milk. Mix well. Add the flour, sugar, vanilla and salt. Stir until well combined.
Cover the bowl with plastic wrap and refrigerate for one hour. Remove the bowl from the refrigerator and let it sit for 10 minutes before cooking.
Heat a small sized, nonstick skillet over medium heat. Spray the skillet with nonstick spray or add a very thin layer of melted butter to the pan. Spoon about 3 ounces (just under ¼ cup) of batter on to the skillet. Swirl the skillet so you have a thin, round layer of batter covering the bottom of the skillet.
The crepe will cook in about 60 seconds. Flip the crepe and cook it for an additional 15 to 20 seconds. The crepe should be golden brown. Transfer the crepe to a plate or wire rack to cool. Continue making additional crepes with the remaining batter.
Donna Evans is an Echo Journal correspondent.