Pine River: Mini bluegrass gathering breaks in new venue
Volunteer hours have been vital in bringing the Lakes Music and Events Park in Pine River into shape
Though the 2020 Lakes Bluegrass Festival in Pine River was canceled because of COVID-19, regular attendees - especially those who had reserved their campsites - still wanted to come to the new venue to jam with other campers, big bands or not.
As a result, the event committee decided to allow a small group to RSVP to the new venue north of Pine River for a mini gathering. The RSVPs allowed the group to control the attendance size, which organizers said peaked at just below 200, including the 48 travelers who camped at the site and walk-ins from the area. The event committee sought a camping permit, which required a Minnesota Department of Health visit and approval.
This year the music was free with 30 professional bluegrass musicians showing up to play on stage for no cost. Organizers say the musicians, who haven't been active this summer because of gathering size restrictions, were just excited to participate. Among them were Shaffer's Lost Forty, a crowd favorite from past festivals.
Attendees also held their own jam sessions in the campgrounds.
This event is the first bluegrass event to take place at the new Lakes Music and Events Park, which is home to the Lakes Bluegrass Festival going forward. The Pine River Area Foundation purchased the 24-acre former Pine River Country Club property in August 2019. Since that time more than 3,000 volunteer hours have turned the overgrown golf course into a venue with electrical hookups and a stage.
Organizers estimate there has been $179,650 worth of site development, with much of that development donated in volunteer hours, cash and non-cash donations. For every $1 of improvement, they estimate they paid 29 cents.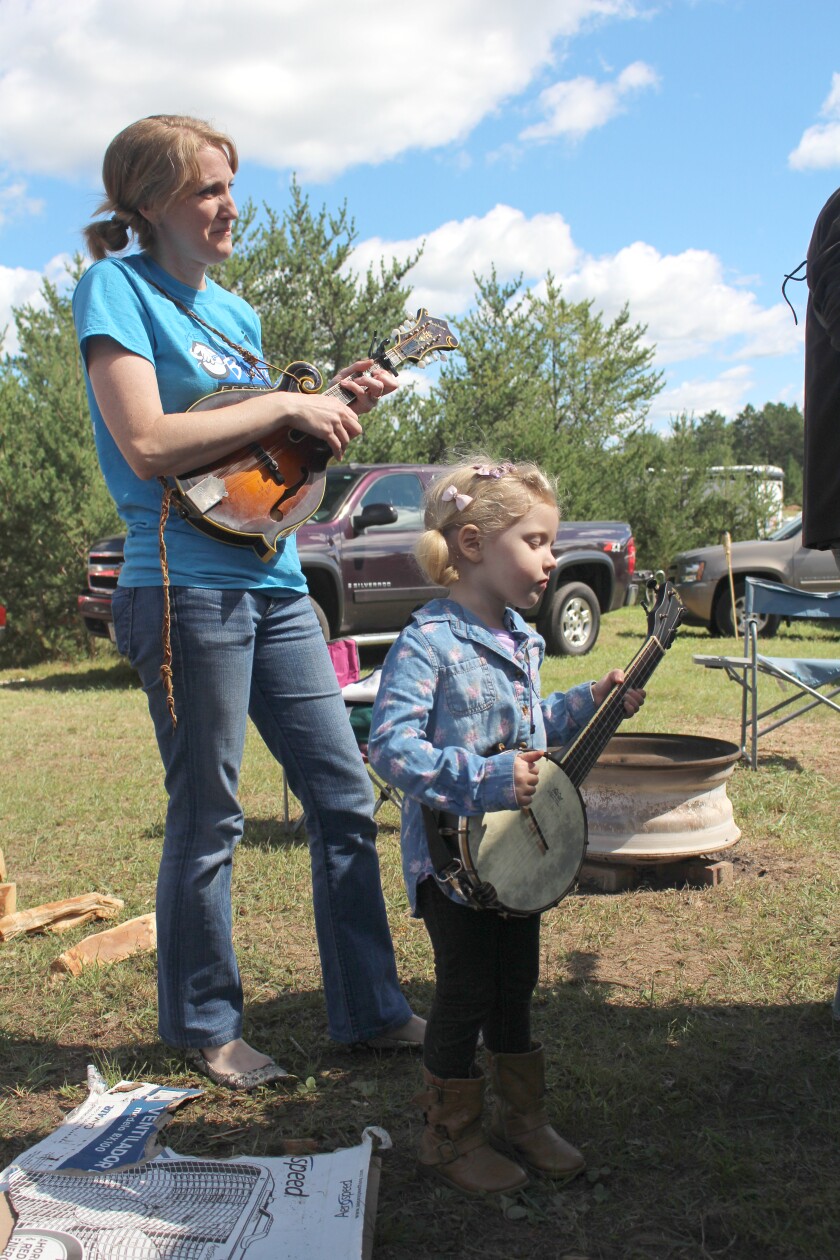 Future improvement goals include a food pavilion, security lighting, permanent shade canopies and a shower house.
Travis Grimler may be reached at 218-855-5853 or travis.grimler@pineandlakes.com. Follow him on Facebook and on Twitter at www.twitter.com/@PEJ_Travis.
1
/
3:
Tim Roggenkamp and Derek Birkeland of Tim & Cindy & Friends play a tune at the mini Bluegrass event in Pine River Saturday, Aug. 29. Travis Grimler / Echo Journal
2
/
3:
Tim & Cindy & Friends started the small Bluegrass event in Pine River on Saturday, Aug. 29. Pictured are Dave Roggenkamp, Eric Roggenkamp, Cindy Roggenkamp, Tim Roggenkamp and Derek Birkeland. Travis Grimler / Echo Journal
3
/
3:
Someone at the event noted that Lacie Philippi introduces her children to instruments as early as possible, as evidenced here by her playing with Iva Philippi. Travis Grimler / Echo Journal
1
/
3:
Tim Roggenkamp and Derek Birkeland of Tim & Cindy & Friends play a tune at the mini Bluegrass event in Pine River Saturday, Aug. 29. Travis Grimler / Echo Journal
2
/
3:
Tim & Cindy & Friends started the small Bluegrass event in Pine River on Saturday, Aug. 29. Pictured are Dave Roggenkamp, Eric Roggenkamp, Cindy Roggenkamp, Tim Roggenkamp and Derek Birkeland. Travis Grimler / Echo Journal
3
/
3:
Someone at the event noted that Lacie Philippi introduces her children to instruments as early as possible, as evidenced here by her playing with Iva Philippi. Travis Grimler / Echo Journal