History restored - Wolverines shut out Huskies: Backus 25, Hackensack 0
1941 football game comes back to life with research
The Friday, Sept. 26, game against the Hackensack Huskies was a running game for the Backus Wolverines, who charged to victory with only two passes on their home turf.
Running back Roy Bickle, a sophomore in the class of 1943, was a force to be reckoned with as the Huskies could not stop him in a 40-yard sprint to the end zone. Bickle scored two touchdowns against the Huskies, sharing the spotlight with fullback Benny Wade, a junior in the class of 1942, who ran in two, with an extra point bringing the tally to 25 for the Wolverines and 0 for the Huskies.
Hackensack suffered from a weak running game; and out of 15 passes, only three were complete and none made it to the end zone. Howard Ellis proved a major force in locking down the Huskies' running game, having a hand in almost every tackle.
The starting lineup was right end Ed (Bob) Maleck, left end Harry Mulholland, center Howard Ellis, quarterback Orville Watson, fullback Benny Wade and halfback Roy Bickel.
That was the result of a 1941 football game preserved in a film reel possessed by Francois Arseneault, a vintage film collector in Vernon, British Columbia. Arseneault bought the film in an estate auction in 2020. In December, he began circulating the video and calling around to get recommendations for interested residents who might be able to uncover more information about the game and who played in it.
"In a year's time your country enters the Second World War," Arseneault said in December. "So, these teenagers, how many of these boys signed up? How many of these boys went overseas? How many never returned home? I find the value and importance of these films to be much more than just entertainment, but also historical."
Someone referred him to Terry Holden, a former coach with the Pine River-Backus football team, a Backus High School alum and Backus history enthusiast.
"I think we were the first ones contacted after it was sent to the school," Holden said. "From my understanding, the guy who purchased the video, once he figured out where in the United States it was at, contacted the school. I don't know who he got a hold of at the school at first, and they weren't sure what to do with it. Someone said, 'Tell the Holdens.'"
Holden had previously done research at the Walker Pilot-Independent and Cass County Historical Society to identify trophies the Backus High School sports teams had won from a collection of trophies at Pine River-Backus School. He used some of the notes he took at that time to research the game.
To identify the people, he scoured through a personal collection of The Pine Mountaineer, the Backus High School yearbooks from that time. The yearbook gave a two-sentence synopsis of each of the five games played that year.
Holden was able to identify many of the people in the videos, including Elmer Bloom, Howard Ellis, Bert Eveland, George Battles, Norma Noble, Leona Clodfelder and Evelyn Shepard. There were many, however, who remained mysteries.
"There's a young couple sitting along the sidelines of the football game," Holden said. "I couldn't figure out who that was."
Some of those identified or listed on the team roster were well-known throughout Backus, so Holden already knew information about what had happened to them in the years since the video.
In addition to the history of the people involved, Holden was able to learn more about the history of the Backus building and property. Most watching the video would likely have assumed the teams were playing football northwest of the building; however, at that time the football field was located west of the building right alongside the airport road.
"I didn't realize that's where the old field was," Holden said.
Learning about the history of that road was a challenge because the entire horizon looks different. To the east of the field, where the video shows nothing but flat field, is now tall forest with the airport beyond that, followed by a field, Highway 371 and the Backus Corner Store.
"I knew the football field had moved multiple times before it ended up where it was - northwest of the school, running north and south - but nobody could tell me where it initially was," Holden said. "Cleo Bach said he played on that field and they moved it to make room for the baseball field and I didn't know the baseball field was in that corner."
Holden used research and landmarks to pinpoint the location of the field and when changes were made. In the 1941 video, he scanned the horizon in the background and identified the location due to a small concrete basketball court in the background. He also used the shadows on the ground to determine direction.
"I could tell which direction the field was going because the games are all played in the afternoon," Holden said. "In the summer of 1967, they changed the gym and added on the elementary and moved the field to the northwest of the school, running north and south," he said.
The video also documented a tradition that ended after 1957 in the form of a freshman initiation.
"It's got all those kids coming down the road and they are all dressed up kind of goofy," Holden said. "I was talking to my aunt and she said the last year they did that was 1957, her freshman year."
Holden said having so few photos to compare those in the video to made identifying the people in the film difficult.
As for who was taking the video, Holden suspects it could have been a highlight reel recorded by John Rohr for his annual sports banquet at the Marlow Theater.
"Every year while the coaches were visiting and deciding who was going to be conference, the kids would be in the theater watching videos Rohr had taken of different school games. Every team would have minutes on the screen to watch the games," Holden said. "And not everybody had a camera like that in 1941, so he'd be my guess."
That does leave questions, however, as the video continues after the game and records a vehicle repair and a trip to a campground in Walker with only a handful of the students present. It is possible the video belonged to one of the students' parents, though that type of equipment would have been expensive at the time.
Arseneault thinks it looks like the students might be interacting with someone their own age.
The whole experience really played into two of Holden's passions: his love of history and his community pride.
"I really enjoyed delving into it and finding stuff out about it," Holden said.
"My delight in these travels is reconnecting people in that area," Arseneault said. "I'm getting calls now and emails and messages literally from all over the world on the little pieces I'm posting."
Arseneault was also moved to learn about the young men on the team who would go on to serve in the military, including Calvin Barchus, who died in 1945 on an aircraft carrier.
"That was what I was curious about because it's all 1941," Arseneault said. "How many of these guys ended up serving in the military during war time?"
Arseneault is still hopeful that more information will be forthcoming and that family members of those in the video will see it and reach out.
"What could transpire out of this is eventually some of the descendants of these individuals will hear of this film and find it," Arseneault said. "And it will be interesting for them to see their grandparents or parents and uncles. I'm looking forward to that moment. It's bound to happen."
The 18-man squad was made up of: Howard Ellis, Bob Malek, Eugene Wroe, Bennie Wade, Orville Watson, Roy Bickle, Douglas Bellefeuille, Kenneth Melby, Harry Munholand, George Battles, Wade Zaske, Calvin Barchus, Vernon Haas, Tom Hayes, Arthur Kimball, Adrian Neher, Bob Munholand and Danny McAllister.
Holden discovered that that year Ellis and Malek were all conference with Wade getting an honorable mention. The team finished the year with a 3-2 record. Their coach was Lynn Sycks.
With the help of Holden, the Backus Old Timers newspaper and members of the "I was Once a Backus Wolverine" Facebook group, some of these people's fates have been uncovered.
Calvin Barchus only completed two years of high school. He entered the Navy when he was 19 in February 1945. On July 3 of the same year, his family received a telegraph that Barchus had been killed on an aircraft carrier on June 29.
Bennie Wade served in the Navy after 1943 and returned home safe. He married his wife, Vicki, in 1945 and they had three children. They moved to Tacoma, Washington, but occasionally visited Backus.
Harry and Bob Munholand both served in World War II and returned home safely. Harry died around 2009 in Chula Vista, California. Bob worked in the Cities but retired in Fifty Lakes where he died in April 2020.
Bob Malek did not serve. Not many details are available for Malek. He died in 1970 and is buried in Ketchikan, Alaska.
Howard Ellis married June Bellefeuille and they had four children. In the 1950s he served on the Backus School Board. He sold his Backus farm around 1960 and moved to Buffalo where he died July 25 at age 82.
Dorian (Wade) Zaske was drafted into the Navy after graduating in 1943 and served two and a half years. He married Eleanora Sheller from the class of 1942 on June 5, 1946, and they had one son. He worked for years with the Minneapolis Police Department while attending law school and then practiced law until his retirement.
Travis Grimler may be reached at 218-855-5853 or travis.grimler@pineandlakes.com. Follow him on Facebook and on Twitter at www.twitter.com/@PEJ_Travis.
1
/
18:
Wade Zaske during his 50 year class reunion. Submitted Photo
2
/
18:
Wade Zaske during his 1943 senior photo. Submitted Photo
3
/
18:
Vernon Haas during his 1943 senior class photo. Submitted Photo
4
/
18:
Howard Ellis at his 50 year anniversary. Submitted Photo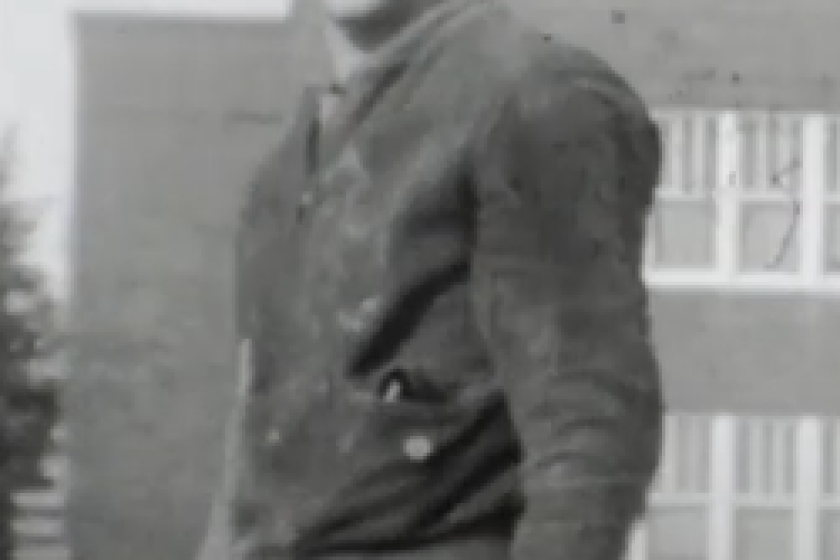 5
/
18:
During the Sept. 26, 1941 football game between Backus and Hackensack, Howard Ellis was vital to shutting down Hackensack's running game. Submitted Photo
6
/
18:
Howard Ellis during his 1942 senior photo. Submitted Photo
7
/
18:
George Battles at his 50 year class reunion. Submitted Photo
8
/
18:
George Battles during the 1942 senior photo. Submitted Photo
9
/
18:
George Battles was one of the stars of the Sept. 26, 1941 game between Backus and Hackensack. Submitted Photo
10
/
18:
Elmer Bloom hamming it up after the 1941 football game. Submitted Photo
11
/
18:
Calvin Barchus in his Navy uniform. Submitted Photo
12
/
18:
Bert Eveland during his 50 year class reunion. Submitted Photo
13
/
18:
Bert Eveland during his 1942 senior yearbook photo. Submitted Photo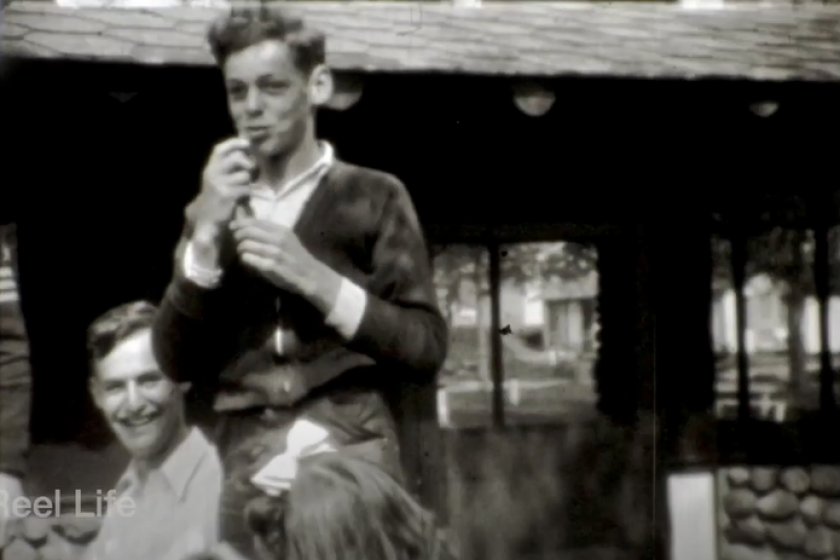 14
/
18:
Bert Eveland during the 1941 post game luncheon. Submitted Photo
15
/
18:
Terry Holden was able to identify only a few girls in the 1941 film reel thanks to many sharing the same hair styles in the video and in yearbook photos. This screen capture includes Leona Clodfelder, Evelyn Shepard and an unidentified student. Submitted Photo
16
/
18:
Ben Wade's during his 50 year class reunion. Submitted Photo
17
/
18:
Ben Wade's 1943 senior photo. Submitted Photo
18
/
18:
Screen capture of the football game from the 16mm film footage. The old Backus school gymnasium is seen in the background. That gym was replaced in the late 1960's along with the elementary addition that was added on.