Crosslake: Seasonal resident helps others with her Lakeside Mittens donation to Common Goods store
Jill Morgan hated to see damaged wool sweaters and blankets be thrown away so she learned how to turn them into mittens for organizations to sell with proceeds helping people in need
Volunteering for a Twin Cities area nonprofit organization that accepts household goods and clothing for people in need, a Crosslake seasonal resident couldn't bear to see otherwise nice pieces of clothing being thrown because of damage.
"A lot of these beautiful but irreparable wool sweaters and blankets go through and we have to recycle them. And I thought they were too beautiful to toss," said Jill Morgan, who lives in Eden Prairie and volunteers at Reach & Restore in Hopkins.
Morgan's desire to use that wool and to help others led her to Common Goods in Crosslake, a trendy thrift store whose proceeds go to Bridges of Hope, an organization in Crow Wing County that helps families in crisis.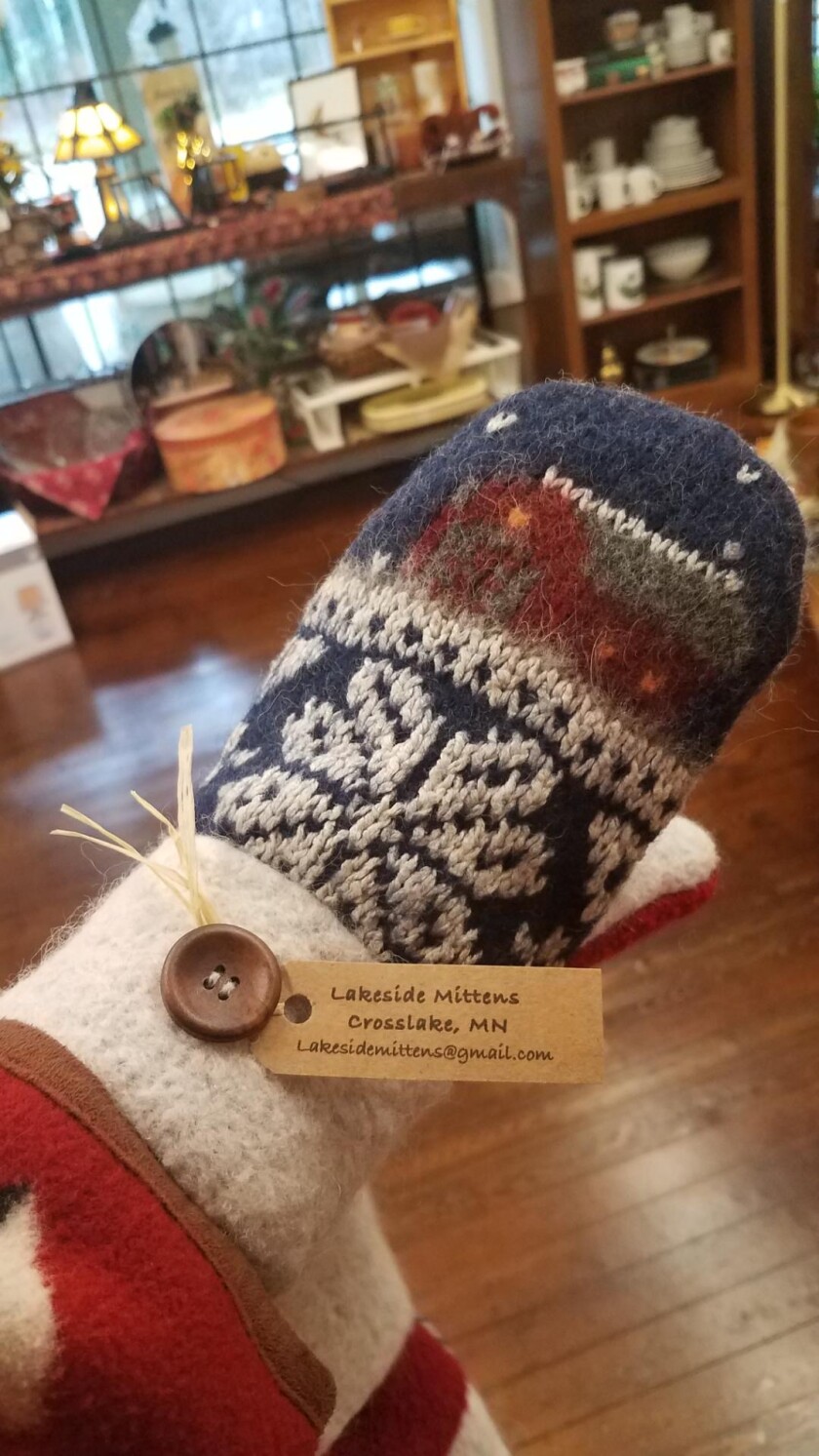 Last year, Morgan donated around 80 pairs of wool sweater mittens she sewed to Common Goods, which sold them for $25 per pair. This year, Morgan split her donation of mittens between Common Goods and 3 Kittens Needle Arts in Mendota Heights, which donates sales to Neighborhood House in St. Paul.
Her initial donation of 30 pairs of mittens to the Crosslake store already sold, so earlier this week she brought a second batch of about 30 mittens to the store. Common Goods store manager Andrea Martin appreciated the extra donation, saying repeat customers returned this year looking to buy more mittens for gifts.
The last 14 pairs of mittens from the first donation were sold to a man who bought them to donate to a women's shelter, Martin said.
"He said he was excited because with his purchase he was helping Bridges of Hope and providing a Christmas gift to these women," she said.
Morgan sews many of her mittens at her family's Crosslake home on Big Pine Lake, so gave them the name "Lakeside Mittens."
Though she knew how to sew, Morgan didn't know how to repurpose the wool into sweater mittens.
"After many severely comical attempts, I was ready to go burn this stuff in the backyard. I would do so much work and come up with two left hands. Or thumbs going the wrong way," she said, noting it took a few days to make one really good pair.
She's now perfected the art, though it still takes a good two and a half hours to make a pair of mittens because of the fleece lining. But it's a labor of love as she shops thrift stores and eBay looking for wool sweaters to turn into mittens.
"It's gotten to be an obsession," she said with a laugh.
Morgan, a retired mechanical engineer, is community oriented and likes to volunteer.
"It's that community service, the nonprofit community service organizations. I just think they're great, and especially because they're in the rural communities. I'm so thrilled to help in the Crosslake community. It's just a pleasure to do that," she said.
Common Goods-Crosslake
Hours are 9 a.m. to 5 p.m. Monday-Saturday.

Donations are by appointment only; call 218-692-7682.

The store is always looking for volunteers.

All proceeds from the store go to Bridges of Hope.

All donations stay local and help local families.
Nancy Vogt may be reached at 218-855-5877 or nancy.vogt@pineandlakes.com. Follow her on Facebook and on Twitter at www.twitter.com/@PEJ_Nancy.
1
/
3:
A pair of wool sweater mittens Jill Morgan made and donated last year to Common Goods in Crosslake. Submitted Photo
2
/
3:
Each pair of mittens Jill Morgan makes carries her "Lakeside Mittens, Crosslake MN" tag. She makes many of her mittens at her Big Pine Lake home. Submitted Photo
3
/
3:
This is the stand of mittens at the Common Goods store in Crosslake that Jill Morgan donated to the store to sell last year. Submitted Photo