Pequot Tool comes a long way from modest beginning
2020 Business Traditions - Roll of Honor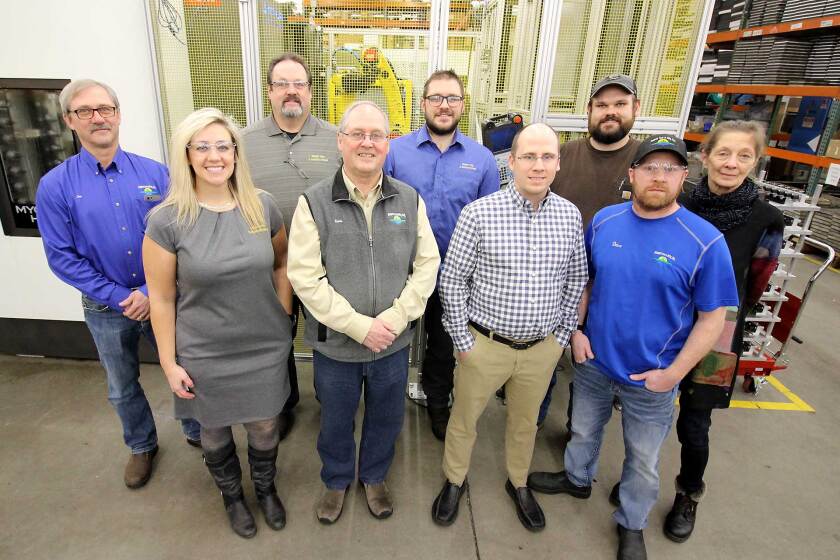 In Jenkins, of all places, a business exists that leaves its mark all over the state or even the country.
Approximately 40 years ago Pequot Tool and Manufacturing had its humble beginnings inside the city of Pequot Lakes, but it started when founder Josef Goerges came to the United States after his family lost their property and flour milling business overseas.
Josef was raised in Yugoslavia before World War II and the family fled country to country to avoid it. They came to the United States after the war and after the Soviet Union had seized their family's former property, leaving them nowhere to return to during peacetime. Josef came to St. Paul due to the booming flour milling industry there, but instead learned a new trade in machining -- first with Northwestern Tool and Die, then Remmele Engineering. After a long career there he decided to become his own boss and started Dakota Tool & Die in Eagan. In the 1960s he merged with Arrowhead Tool & Die. In the industry he became a mover and shaker, even helping found the Twin City Tool & Die Association, now the Minnesota Precision Manufacturers Association.
In 1972 he nearly replaced machining with the resort life, but that wasn't to be.
"Joe Sr. was from Arrowhead Tool and Die from the cities," Brian Goerges said. "He was a master tool and die builder. He had a lot of business experience prior to starting Pequot Tool. How he ended up in Pequot Lakes was Haze Haven resort on Big Pelican. They bought that resort in 1969 or '70. They moved here in '72 and Joe Senior was traveling back and forth to the Twin Cities while the resort was being run. By 1980 they decided they wanted an established manufacturing up here. That's how the Pequot location started and got here."
"One of the reasons dad decided to open the business was because the kids needed a place to work after the resort industry died off," Joe Goerges said. "That's when he decided to go to the cities and bring work back up and start a business."
Thus was born Pequot Tool and Manufacturing, a precision manufacturing job shop. All the while Josef was joined by his wife and bookkeeper Agnes, who he married in 1953. She undoubtedly had a hand in shaping the company's priorities, which included charity.
--- --- --- --- ---
"One of the reasons dad decided to open the business was because the kids needed a place to work after the resort industry died off. That's when he decided to go to the cities and bring work back up and start a business." - Joe Goerges
--- --- --- --- ---
"We've been working with the community since day one," Karlo Goerges said. "Today we've got probably two dozen local charities that we work with."
"It's one of our initiatives that the shareholders have handed down to the company to utilize our initiative of giving," Chad Shogren said. "We have a percentage for that. We try to give a portion of our profits for the year back to our community and get our employees involved in the community as well."
Today the company prides itself in annual, employee-initiated food shelf drives every March. They have raised over $50,000 for area food shelves over the years and over $20,000 for the United Way. Their charity also goes to benefit the local schools, Kinship Partners, Habitat for Humanity and several charities that support the manufacturing industry. They particularly pride themselves in working with Lakes Area Manufacturing, Bridges Workplace Connection and others.
"One longer term thing we've been passionate about for years is giving back to manufacturing," Brian said. "Being involved with schools through apprenticeship programs and those types of things that we continue to this day. We have dedicated training people inside the company and apprenticeship programs, internships and that type of thing. It's always been a long term goal to give back to manufacturing."
That charitable spirit was all inherited from Josef and Agnes.
Josef put some serious thought into naming the business. Not only did adopting the name of the city of Pequot Lakes make sense, it also played into the Native American related names of several of the other companies he had started or worked with.
"We had a lot of choices back then," Joe said. "The one I kind of favored was Gee Whiz, but that never took hold. We thought about calling it Goerges Industries but that didn't stick either. We thought we could attach Pequot Lakes to it. It had a good sound and we liked the area."
"Also, grandpa had previously been part of Arrowhead and I think he really liked that Pequot was a Native American tribe name," Laura Goerges-Stromberg said. "A teepee was originally on our logo and letterhead. I think there was some heritage behind that, too."
The business has changed since its founding. First, it used to be located inside of the city of Pequot Lakes in one of the current Andy's Small Engine Repair buildings. Before the doors even opened the company already had a customer and a product in what one might call pre-production.
"Pequot Tool opened its doors in Pequot Lakes," Brian said. "It was on Woodman and Front Street next to the truss and joist business. A small 5,000 square foot factory. Prior to starting at that location, mom and dad basically were working with a company called Trailhead Industries where they designed and manufactured vent products before the doors opened. There was a pending product coming in before the company was formed."
The business produces made-to-order products, which means their customers own the designs of the products they make, but Pequot Tool manufactures them as needed.
"We're a job shop," Brian said. "Our customers order parts from us and we make the parts. In the long term those parts are only theirs. We own the manufacturing process, the customer owns the parts."
--- --- --- --- ---
"A lot of our stuff goes into point of sale applications. You'll see our stuff at just about every single check-out at Target, Fleet Farm, Menards. Every time you check out you are interacting with a part we made." - Jon Goerges
--- --- --- --- ---
They have many different processes they use to manufacture those parts including milling and stamping.
The products they build end up in many places. Magnum Research in Pillager, maker of the Desert Eagle handgun, uses Pequot Tool and Die parts. Customers also include Elite Industries, Northland Machining and at businesses all over the country.
"A lot of our stuff goes into point of sale applications," Jon Goerges said. "You'll see our stuff at just about every single check-out at Target, Fleet Farm, Menards. Every time you check out you are interacting with a part we made."
Parts manufactured in Jenkins are in planes flying all over the world.
"Every time you get on an airplane there are parts there that we made," Jon said. "Every Boeing has stuff we made. A lot of Airbuses and a lot of regional jets as well. If you are flying you are probably interacting with a part we made."
Of course, a business with these kinds of ties goes through a lot of growth. Not only has the business had 13 additions and expansions, it long ago outgrew the building where it started. When the company first started, there were only five employees (all but one a Goerges), but by the time that number grew to nearly 20 in 1989 they needed more space for people and equipment, and so they moved the facility to Jenkins.
"When it came to the move from Pequot to Jenkins we did that on a Saturday and Sunday," Brian said. "We shipped product out from Pequot on a Friday, and on Monday we had a large order of Vent Hoods and we shipped them from this facility. It was a rat race from Saturday to Sunday of bringing seven punch presses, four to five CNC machines, other little machines, all the materials and racks. The movers we had only had so much time. Whatever we could haul in pickup trucks or drive a fork lift or whatever we could use to get up here. It was everything we could do to get established."
That relocation made lots more growth possible. Today the employees number 187 and every Thanksgiving they take that count in turkeys.
"My mom and dad were very proud of starting the business here and talked about the ethics," Brian said. "There was a Thanksgiving tradition that started here from year one where they would buy a turkey for everyone that worked for the company. We still do that to this day. Every year we ask how many turkeys the company grew by every year. That was just one of the pieces they would measure the business by."
The company got as far as they are today by following the examples set by their founder who died in 2016 at the age of 87.
"Work ethic," Joe said. "That's what dad instilled in us. Work hard, pay yourself right and you can get a good living."
Just as in the past, Pequot Tool & Manufacturing has changes coming in its future. Many employees remember another of Josef's mantras, "Work smarter, not harder" and they see that as part of their growth strategy as the company adopts more automation and multi-use machines. The company also has to tackle the challenges that come with any family company that lasts more than a certain number of years: passing the torch.
"One of the things that is a challenge with a company our size. We are in an interesting situation. We are going from second generation to third generation," Karlo said.
The key, they say, is going to be in growing sustainably and focusing on their past successes.
"Our growth is going to come from focusing on what we do best," Chad said. "We are a very diverse organization with a lot of processes and a lot of different departments. As we focus on those different areas we have a broad group of people and a broad expertise, we will continue to grow in those areas."
"We're looking as the company evolves at becoming sustainable in scale and growth so that as we grow as a company we don't have the super highs and super lows and we are always a dependable, stable company -- not only for customers but for employees and the community," Brian said.
1
/
4:
Agnes Goerges, pictured here with Josef Goerges, kept the company's books and guided Pequot Tool and Manufacturing along a path of success with her husband. They also determined the company's priorities which still include charitable giving.
2
/
4:
The original location of Pequot Tool and Manufacturing was a rented pole building in the city of Pequot Lakes. They have since moved to Jenkins in a much larger facility.
3
/
4:
Pequot Tool and Manufacturing had humble beginnings under the skillful guidance of founder Josef Goerges, pictured here.
4
/
4:
A sample of some of the early equipment used by Pequot Tool and Manufacturing.